DNA crystallographer Rosalind Franklin, and protein pioneer and Nobel laureate Dorothy Hodgkin are among the chemists nominated to be the face of the new polymer £50 note.
Having received more than 174,000 nominations in four weeks, the Bank of England compiled a list of around 600 men and 200 women that meet the eligibility criteria. The person to adorn the new £50 note, the criteria state, should have contributed to science, should have shaped thought, innovation, leadership or values in the UK, and should have inspired, rather than divided, people. Moreover, only deceased individuals can appear on banknotes – an exception being the Queen.
Physicist Stephen Hawking, computer scientist Alan Turing, mathematician Ada Lovelace, double chemistry Nobel laureate Frederick Sanger and physician Alexander Fleming are some of the other favourites out of the more than 800 nominees. Chemists are represented by, among others, early electrochemist Humphry Davy, fullerene discoverer Harry Kroto, nuclear fission discoverer Lise Meitner and John Dalton, who introduced atomic theory.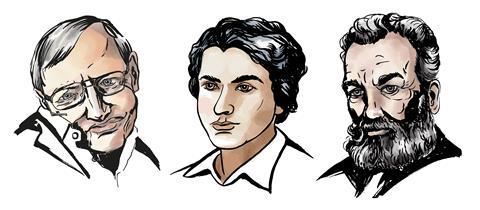 One of the more unusual nominees is Margaret Thatcher. Although better known as a politician, she studied chemistry at the University of Oxford under Hodgkin, and worked as a food chemist.
Nominations for who will replace steam engine pioneers Matthew Boulton and James Watt on the £50 note will remain open until 14 December. A committee including astronomer Maggie Aderin-Pocock, science communicator Emily Grossman, history of science researcher Simon Schaffer and popular science author Simon Singh will then draw up a shortlist. The new face of the £50 note will be announced in 2019.