Women now make up 40% of US researchers – a 9% rise from the 1996-2000 era – with similar trends elsewhere
Women comprised about 40% of America's research workforce from 2011 to 2015 – a figure that represents a 9% increase from the period of 1996 to 2000 – and the statistics are similar for the European Union, UK, Canada, France and Australia and others, according to analysis by the publisher Elsevier.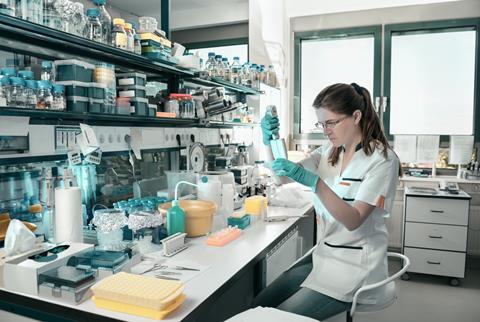 The situation for women scientists is by far the brightest in Brazil and Portugal, where females currently constitute about 50% of the researcher population, and is bleakest in Japan, where the figure stands at only 20%.
Holly Falk-Krzesinski, Elsevier's vice president of strategic alliances and global academic relations, presented the data at a press event in Washington, DC on 31 March. She emphasised that in male-dominated fields like engineering, mathematics and physics/astronomy, women represented only 21% of the researchers. In contrast, they made up 62% of researchers in the nursing field, and 57% of researchers in psychology.
In the US, women only comprised about 24% of chemists in the period of 1996 to 2000. In 2011 to 2015, the figure grew to around 30%.
Impact inbalance?
Across all countries, female researchers tended to have lower scholarly output on average than their male counterparts. In addition, with the exception of Portugal, female researchers in all nations studied engaged in less international collaboration than men. The Elsevier team found that the proportion of women among inventors in the US is only 14%, and that just 23% of US patent applications list a woman among their authors. This is still a higher proportion than in the EU, UK, Canada, Australia, Brazil, Japan, Denmark, Mexico, or Chile.
The US is also the only one of the 12 nations studied in which the so-called 'field-weighted citation impact' (FWCI) – a measure that normalises for differences in citation activity by subject field, article type, and publication year – is higher for women than for men. In the UK and EU, the FWCI is about equal for men and women. The other countries all show slightly higher values for men than women. However, the 'field weighted download impact' (FWDI) – which compares the actual number of downloads received by an article with the expected number of downloads for similar articles – is slightly higher for women in most of the areas that Elsevier examined.
'Overall, a strong gender imbalance in scholarly impact does not emerge from our analysis of the citations or downloads of papers,' the report concluded, adding that it found 'no evidence that the inequalities in the representation of women researchers across countries and fields and in their scholarly output affect how their research is read or built on by others'.
Citation gap
But there is some disagreement about this conclusion. Cassidy Sugimoto, an associate professor of informatics at Indiana University at Bloomington, pointed out that female-only authored research papers have the lowest citation average. Sugimoto's own research has shown that when women and men publish a low impact factor journal their papers get cited at about equal rates, but the disparities widen as the journal quality improves. The widest citation gaps between male female researchers are in the top tier journals, she said.
'Even after making it through the same filters – the same peer review process, the same quality assurance – women's work is still cited less,' Sugimoto stated. 'This is an important finding for us to keep in mind, that there is still a bias when we think about how women's work is reported and received by the external community.'
Kjersten Bunker Whittington, a sociologist at Reed College in Oregon who has studied gender and scientific careers, pointed out that there are people who remain invisible in current analyses. Whittington noted that the Elsevier data focus on those who have already patented and already are published. 'In the course of collecting data in that way, we miss focusing on those who could have but didn't,' she cautioned.
Increasing concerns have been voiced, for example, that sexual harassment in academic science might be damaging the pipeline of female researchers in the US. Indeed, the US National Academies' Committee on Women in Science, Engineering and Medicine has launched a new study examining the effect of sexual harassment on academia..
'This is a study that is long, long overdue, and clearly it is timely,' said the full committee's chairwoman, University of Maryland cell biology and molecular genetics professor Rita Colwell, at the event to announce the Elsevier report's findings. Colwell, who served as the director of the US National Science Foundation from 1998 to 2004, said her committee has raised roughly $2 million (£1.59 million) for the study, through federal agencies like the National Science Foundation and Nasa, and from private foundations such as the Howard Hughes Medical Institute and the Burroughs Wellcome Fund. A final report is expected in about 18 months.

Rebecca became the US Correspondent for Chemistry World in September 2014, based out of Washington, DC, after writing for the magazine on a freelance basis since 2007.
View full profile