Top science committee Republican in fight with university association over NSF grant review process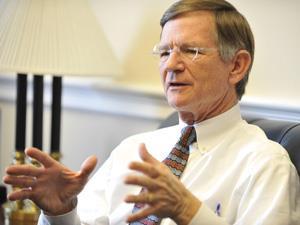 Tensions between the top Republican on the House of Representatives' science, space, and technology (HSST) committee and the US academic research community have reached fever pitch. At issue is an inquiry spearheaded by the committee's chairman, Lamar Smith, questioning the value of scores of research grants funded by the National Science Foundation (NSF).
The Association of American Universities (AAU), which represents more than 60 leading research universities, says the congressman has highlighted 60 NSF grants as being of dubious value to US taxpayers. He has requested details about them from the agency since April 2013, although Smith's office puts the figure at around 50.
Overall, Smith and his committee has sent several letters to the NSF seeking information about the studies and specifics about the review process of the funding decisions. Among the NSF grants that Smith has targeted is a $220,000 (£140,000) research project that involves studying animal photos in National Geographic and a $350,000 study analysing early human-set fires in New Zealand.
The AAU board of directors has said that the committee's current probe into the value of selected NSF grants, based primarily on their titles, is 'far from constructive'. It notes that the agency's review process is designed to fund the best research and to remove those decisions from the political process.
Further, the board suggested that Smith's demand for the names and comments of scientific reviewers is 'highly inappropriate' and violates the confidentiality guaranteed by the review process.
'Our broader concern is this: that NSF will be pressured to fund only "safe" research that does not attract political attention; and that NSF peer reviewers will, therefore, reject potentially important but odd-sounding research proposals,' the board warned. 'Has NSF been perfect in making grant decisions for over 60 years? Of course not. But its record is superb, and its merit review process is the model for other countries as they try to compete with American science.'
Smith defended himself, saying that he isn't seeking the names of the external reviewers who evaluate NSF grant proposals. 'It is the AAU's stance that information about taxpayer-funded grants should be kept secret both from Congress and the American people in order to protect academic freedom,' Smith stated. He also said he has readily agreed to have all the names of such reviewers redacted.
However, the AAU argued that the series of communications between his committee and the NSF, including one for 'every e-mail, letter, memorandum, record, note, text message, as well as all peer reviews considered for selection', would mean revealing the names of peer reviewers.