Firm will focus drug development efforts in three strategic R&D centres in the UK, Sweden and the US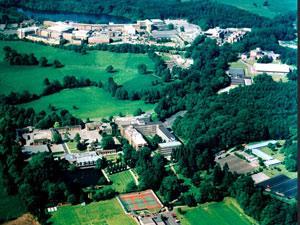 The tectonic plates already moving beneath the world's pharmaceutical industry have shifted once more, with the announcement by AstraZeneca that it is ending R&D work at its famous research centre at Alderley Park in Cheshire in the north-west of England. The move is part of a redrawing of the company's global research blueprint, which will now be centred on the creation of three 'strategic R&D centres' for small molecules and biologics, to be based in Cambridge in the UK, Gaithersburg in Maryland, US, and Mölndal in Sweden, to be completed by 2016.
Around 1600 workers will move from Alderley Park to a new purpose-built £330 million strategic R&D centre and global headquarters in Cambridge. R&D activity will no longer be carried out at Alderley Park, which for more than 50 years has been a hub of pharmaceutical research for AstraZeneca and its predecessor ICI.
The move will also affect AstraZeneca's global headquarters in Paddington, London, where around 350 people work in commercial and corporate functions. Most of these roles will move to the new headquarters in Cambridge or to other sites. Overall, 700 jobs will be lost in the UK following the restructuring.
Gaithersburg is the site of the headquarters of MedImmune, acquired by AstraZeneca in 2007; it will host much of the company's US-based global medicines development activities for small and large molecules. AstraZeneca's site in Mölndal will continue to be a global centre for R&D, focusing on small molecules.
The changes, says AstraZeneca's chief executive Pascal Soriot, are designed to reduce the company's R&D 'footprint' to reduce complexity and costs. 'The strategic centres will also allow us to tap into important bioscience hotspots providing more of our people with easy access to leading-edge academic and industry networks, scientific talent and valuable partnering opportunities,' Soriot says. The restructuring will lead to a loss of some 1600 jobs globally and will cost around $1.4 billion (£927 million).
On the ropes
For the UK, the news comes as another blow to an already reeling pharmaceutical sector following the announcement in 2011 that Pfizer's UK site in Sandwich was to close with the loss of more than 2000 jobs. AstraZeneca itself announced in 2007 that it was to shed 11% of its workforce globally – 7600 people – with a further 7300 job cuts announced in 2012.
The loss of jobs in the north-west of England has been greeted with dismay. 'It is another major sign telling us that the drug discovery sector is rapidly reshaping and contracting,' said Robert Parker, chief executive of the RSC. 'To our regret, it cuts many jobs, causing insecurity and disruption amongst those people affected. At the same time, however, it points the way to a possible future shape of the British pharmaceutical industry, which has been experiencing so much erosion in the past few years. For the sake of the industry in Britain, and the people still working in it, we have now to adapt, in order that the country retains its leadership in the field.' The RSC will offer careers advice and guidance to any of its members that are affected by the closure of the Alderley Park centre.
David Willetts, the UK government's minister for universities and science, welcomed the decision of AstraZeneca to invest in a new multi-million pound centre in Cambridge as 'a real vote of confidence in the UK life sciences sector'. Willetts added: 'Clearly the decision to reduce R&D activity at Alderley Park is disappointing. But the government will work closely with AstraZeneca and local partners to ensure this excellent facility has a prosperous future with new opportunities for the site.'