China's chemicals giants will unite under a state-run holding company
Chinese regulators have approved the long-anticipated merger of two of the country's major state-run chemical groups, Sinochem and ChemChina. Together the refining and chemicals giant will have revenues of over $150 billion (£109 billion), and its leaders anticipate cutting costs to become more competitive. However, analysts don't expect to see any big changes just yet.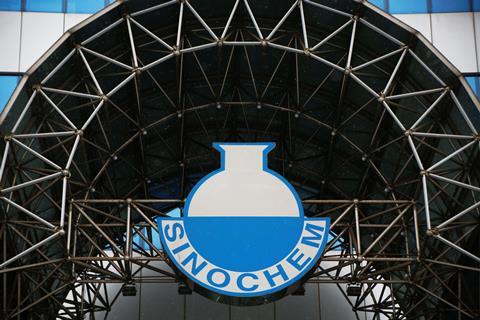 ChemChina certainly needs Sinochem. It is heavily in debt, having paid $43 billion for Swiss agrochemicals business Syngenta in 2017. There are already ties between the two companies: last year, Sinochem merged its agricultural operations with Syngenta and Israel-based Adama (which ChemChina had bought in 2011). Reuters reported that ChemChina had to seek up to $10 billion state support to fund the reorganisation. When the new company, Syngenta Group, reported its annual results at the end of March, it confirmed plans to float on public stock exchanges in mid-2022.
'They would like to list in order to raise money. Although they are state-owned, it doesn't mean that the Chinese government will just keep printing money and cover them forever. They have to find avenues to make money,' says Salmon Lee, head of polyesters at research group Wood Mackenzie.
While Sinochem by contrast is 'cash rich' and has trading strengths it 'has seen its glory days' – its performance peaked more than ten years ago, Lee adds. The background and contrasting growth pathways of the two companies suggest it wont be 'happily ever after from now on'.
In a statement, Sinochem said the new holding company aimed to become an 'innovation-driven leader' in the sectors in which it operates. Indeed, the combined group is charged with upgrading China's chemical industry domestically, says Laura Zhai, senior director for Asia-Pacific corporates at Fitch Ratings.
'There is a significant amount of synergy to be realised including R&D, distribution and production of their overlapping business segments such as agrochemical, new materials and oil and gas,' she adds. Syngenta, for example, has little exposure in China, which could be immediately enhanced through the combined entity's strong distribution channels.
Lei Sun, a Wood Mackenzie consultant based in Beijing, points out that Sinochem has a lot of resources compared to its new partner, especially in the refining sector. Crucially it also has 'a product export quota, so it can sell refined products overseas'. Together, the companies will be producing around 37 million tonnes of oil a year. Sun also expects ChemChina to be able to take advantage of Sinochem's mature distribution and logistics system. Combined, they'll have around 1200 fuel stations across the country, which 'would solve part of the sales problems that that ChemChina is facing now'.
Last year, the US Department of Defence added both Sinochem and ChemChina to a list of entities it regards as 'Communist Chinese Military Companies'. The broad-ranging power makes the companies off-limits to US investors and sets the scene for punitive sanctions, although these haven't materialised under the new US administration.
Angeli Mehta is a freelance science writer with a research PhD, based in Edinburgh, UK
View full profile