Research Triangle Park site bears the brunt as drugmaker consolidates research in Philadelphia and Stevenage, UK
GlaxoSmithKline (GSK) has told North Carolina authorities it plans to cut 900 jobs at its site on the Research Triangle Park (RTP) there as it seeks a £1 billion reduction in overall annual costs by 2016. 350 of the chemists, engineers and other roles will be lost by April 2015, another 450 by July, and the remainder eliminated by the end of the year.
This move constitutes the largest single impact on R&D as the pharmaceutical company seeks to 'take unnecessary complexity out of [its] global operations'. Up to 450 of the affected employees are set to transfer to Parexel, GSK's neighbour at RTP and 'strategic partner in clinical development and trial services'.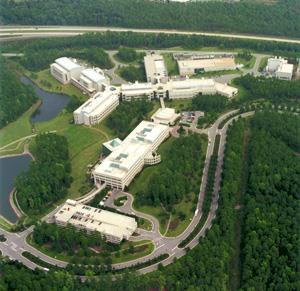 The RTP site – which employs around 4500 people, including 2500 in R&D – will be worst affected as GSK consolidates R&D in Philadelphia and Stevenage, UK. However, employees elsewhere will also be hit by a plan encompassing 'global commercial operations, support functions, R&D and manufacturing units'.
'In the US, we are reshaping and reducing the size of our commercial and R&D operations – now accounting for 17,000 employees – to be more agile to flex with shifting market demands,' GSK stated. 'Cuts are not being made across the board but are strategic, focused changes to allow GSK to operate more efficiently.' However the company adds that it doesn't know precisely how many employees will go as it's looking to minimise redundancies with recruitment freezes and by not filling vacant roles. The situation is further confused by trading of employees between GSK and Novartis as part of an asset swap announced in April.
The cost-cutting scheme was first announced on 22 October, driven by the impact of generic competition on GSK's blockbuster respiratory drug Seretide (Advair in the US; fluticasone and salmeterol). 'Initial savings from this new restructuring in 2015 will be relatively smaller but will help us to offset some of the earnings impact of declining sales of Advair,' said chief financial officer Simon Dingemans at the time.
Mike Ward from Datamonitor Healthcare, says that reducing 'geographic footprint' and shrinking sales teams is a common activity right now in the pharmaceutical industry. He adds that the consolidation fits with GSK's intention 'to improve R&D efficiency and encourage collaboration across different job functions'. 'Focusing activity around two hubs should help facilitate this,' Ward says. 'Like other pharma companies, GSK is having to contain its costs and this is part of that process.'