Prime minister Modi wants country to be energy independent by 2047 and become a global hydrogen hub
India has set ambitious targets for renewable energy and green hydrogen generation, aiming to become a global hydrogen hub and reverse its reliance on imported fossil fuels.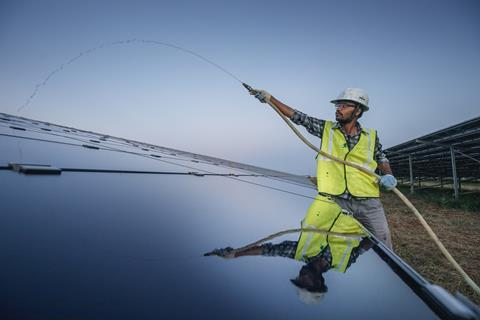 On 15 August, India's Independence Day, prime minister Narendra Modi committed to a National Hydrogen Mission to invigorate India's efforts in climate change mitigation. Modi wants India to become a major global hub for green hydrogen production and export. To support this ambition, India has also set targets of 175GW renewable energy generation by 2022; 450GW by 2030; and complete energy independence by 2047. At the end of April 2021, India's installed renewable energy capacity is estimated to be about 95GW, including 40.5GW of solar power.
India is currently the world's third largest emitter of greenhouse gases and imports a vast chunk of its fossil fuel requirements, costing $160 billion (£117 billion) annually.
India's petrochemicals behemoth, Reliance Industries, intends to invest $10 billion over the coming three years in a 20km2 green energy giga-complex at Jamnagar. The complex will have four gigafactories dedicated to: integrated solar photovoltaics; advanced energy storage batteries; electrolysis to produce green hydrogen; and fuel cells for converting hydrogen into mobile and stationary power, said managing director Mukesh Ambani at International Climate Summit in New Delhi on 3 September.
Currently, various degrees of clean hydrogen cost $3–6.50 per kilogram. Global efforts aim to bring that cost down to $2/kg. 'I am sure that India can set an even more aggressive target of achieving $1/kg within a decade,' said Ambani.
India's solar energy potential also offers huge advantages for green hydrogen production. 'Taking advantage of over 300 sunny days per year, India can easily generate over 1000GW of solar energy on just 0.5% of its land,' Ambani stated. The price of solar energy in India has come down to ₹2 (£0.02) per kilowatt hour in competitive bidding.
'The key challenges for green hydrogen transition are to ensure development of domestic capacity for commercial scale production of green hydrogen, especially electrolysers which are imported; availability of the required financial resources; and capacity building of key stakeholders on hydrogen production, storage and transport; among others', says Sachin Kumar, senior fellow at The Energy & Resources Institute (Teri) in Delhi. Teri predicts that hydrogen demand in India will increase at least 5-fold from the current level of 6 million tonnes/year within a few years.
India is collaborating extensively with Norway to develop 'India-centric' green hydrogen technology. US climate envoy John Kerry has also promised that the US will help India with technology, finance and other elements in meeting its renewable energy goals.