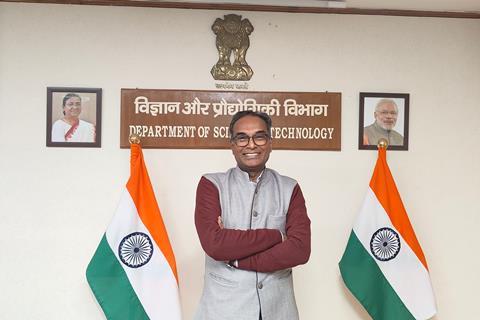 India has the potential to be a leading 'science hub' for the next generation of researchers, says Srivari Chandrasekhar, India's secretary to the science and technology department, which oversees an annual budget of around INR70 billion (£700 million). He now wants scientists from African nations and other countries in the global south to start exploiting the immense opportunities currently available in India.
Chandrasekhar is no stranger to science and completed a postdoc in organic chemistry at the University of Texas in the early 90s. 'It was a huge aspiration for many Indian scientists earlier to work in the west. Now that India has built world-class research laboratories, we should extend the same courtesy to fellow scientists from Africa and the global south,' he points out.
His mantra for science is simple – impact on society is what matters, whether as a technocrat, a researcher or a student. With over 300 publications and 22 patents, Chandrasekhar himself has made significant contributions in diverse areas of organic chemistry, especially in chiral chemistry and total synthesis of natural products, such as complex marine compounds.
Chandrasekhar says that for a long time he flirted with the idea of becoming a doctor when he was at university. He credits his lecturer Chandrasekhar Reddy at Osmania University for his decision to become an organic chemist and his PhD supervisor A V Rama Rao, one of India's pioneering chemists, for his focus on translational research.
When he started his PhD, Chandrasekhar recalls that Rao pointed out how cyclosporin, an immunosuppressant drug, had been introduced in the US market but was not available in India. 'From this experience, I learnt how to develop a PhD problem from reading daily newspaper,' he notes, and went on to help develop a different process for producing cyclosporin. His PhD students have followed a similar path, which has led to syntheses for favipiravir, misoprostol and a 70-step process for cancer drug eribulin.
Chandrasekhar, who became head of the Indian science programme about a year ago, offers an overview of the UK–India bilateral science and research programme, which has grown significantly during the last decade. It is estimated that both countries have invested over £400 million across various research and education projects, addressing global challenges such as climate change, energy and antimicrobial resistance. 'Both India and the UK follow similar education and research systems, which date to our pre-independence period. They are natural partners. I think we are in the right time and right place for strengthening this partnership,' he says, outlining that the strategic focus should be on achieving 'net zero [in] the fastest time possible'.
Innovative ecosystem
Today, India boasts one of the best innovation ecosystems, home to over 80,000 start-ups spread across IT products and services, biotech and artificial intelligence. Many of these start-ups by young technologists are looking at the challenges faced by farmers, as the agriculture sector in India still accounts for 60% of livelihoods. With the middle-class consumer market growing fast in India, innovative UK and Indian start-ups in the agri-tech sector should work together for mutual and global good, Chandrasekhar says. 'In our new incubation centres, I have come across young and bright entrepreneurs who are very sensitive to the needs of the society and keen on creating innovative solutions. We can provide a platform to facilitate interactions with UK and Indian start-ups and also conduct roadshows, if needed,' he says.
India has excelled in process development and generic drugs, making medicines affordable for the world, whereas the UK is more innovative when it comes to drug development. Chandrasekhar, who has collaborated with pharmaceutical firms in India on drug and process developments, feels that 'one programme [between India and the UK] that did not get enough importance is affordable healthcare'. He adds that future mobility and advanced manufacturing could also be huge areas for collaboration in future.
Back home, India is betting big on quantum computing. The government has set aside a substantial sum over the next five years to make early breakthroughs, rather than adopt a wait and watch policy. 'If India takes the lead now, we will be on par with the global leadership, rather than wait for the world to invent, as we play the catch-up game. That's where we lost leadership in the manufacturing of electronic goods,' Chandrasekhar says.
Similarly, India has launched an interdisciplinary cyber-physical system programme with an investment of £400 million, focusing on the needs of society and fast-developing information and cyber systems. 'We have created around 25 hubs across India on various themes and already some hubs have received massive support from industry – akin to the [technology centre] Catapults in the UK,' he says. This project is expected to build a new innovation ecosystem, which will unleash new products around autonomous vehicles and next-generation security systems.
Improvement needed
Of the 1500 public and private universities in India, the infrastructure and quality of research still leaves a lot to be desired in a large chunk of public universities. For Chandrasekhar, strengthening public universities is one of his priority areas. India has introduced Scientific Social Responsibility (SSR), a new policy for large universities and well-funded R&D labs, modelled along the lines of corporate social responsibility, where 4% of the profits are earmarked for good causes. Under the new scheme, these universities have to share their facilities and mentor young researchers. 'We hope that this will have a huge impact on the development of the next generation of researchers,' he says.
India is still lagging behind other competitor nations when it comes to R&D spending though, investing under 1% of its GDP. Chandrasekhar says that the 1% figure is an aspirational number and, despite not having passed it, India has been increasing R&D spending anywhere between 8 and 15% year-on-year for several years now. He points out that if one considers purchasing power parity, India does much better compared with other countries. For instance, postdoctoral fellows in India cost around £15,000, whereas in the west it is around £50,000, he says, so the cost of doing research is significantly lower in India. 'There was a significant investment in India during the Covid pandemic, which resulted in several innovations and technologies to address challenges posed by the pandemic.'
Chandrasekhar calls for a larger debate within the community on open science, noting that all government-funded research should be free to access, once steps have been taken to ensure the originators of the research can benefit from their intellectual property. 'We need to protect our knowledge and science if it has a potential benefit. We need to differentiate it, otherwise science will not give you rewards in terms of finances.'