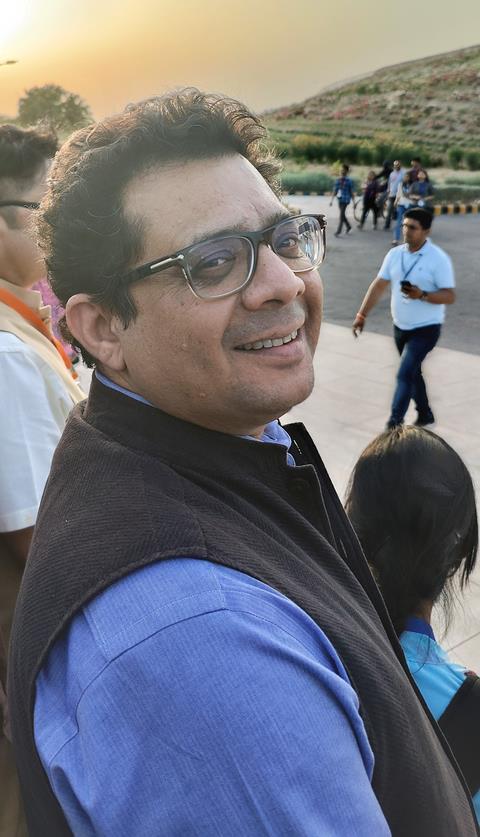 Sandeep Verma belongs to the generation of chemists that came of age in a post-liberalised Indian economy. Verma, who heads one of India's premier funding agencies, the Science and Engineering Research Board (Serb), says that the ascent of Indian science, in particular chemistry, has him excited to see what is next. 'Most of our younger colleagues have brought in excellent research ideas that are not only fundamentally disruptive, but also possess promise for translation in future. Most of this research has been partly due to the strengthening of R&D infrastructure, availability of top-class talent, and a conducive, yet highly competitive atmosphere. We are seeing encouraging signs of interaction with industries as well,' he says.
India's investment in research has stagnated in recent years, stuck at around 0.7% of GDP. Despite static investment in research in real terms, India is now ranked third in global publishing output, however, and has tripled the number of research institutes and universities over the last 15 years. Verma says that a pool of great talent and knowledge has been created but that there is still the big challenge of strengthening the R&D ecosystem in state universities, which have been left behind.
'Serb has promoted schemes for R&D in colleges in collaboration with established hosts and, more recently, there is an endeavour to bring out new calls for state universities to ensure that a scientific temper and zeal to perform top quality research is ignited among deserving researchers,' he adds. Another programme helps young researchers who have done their PhD in India to visit leading global institutions for two to six months to get exposure in emerging scientific areas.
Open science
Broadening the perspective on R&D funding, Verma emphasises that the new programmes and schemes will not only involve science and technology, but also quantitative social sciences. 'Serb will continue to seek integration and alignment of funding programmes with national missions, while supporting blue-sky research, create centres of excellence in globally competitive areas of research, partnership with industries for industry-relevant-R&D, and collaboration with international R&D funding bodies.'
He says Serb and the science ministry are totally committed to making science simple to carry out in universities, top-down funding calls in niche areas of research, and aiding collaborative work both at the national and international level, through its funding schemes.
As a chemical biologist, Verma says that international collaboration is vital to his work. His collaborations are dotted around the world including the US, UK, Germany, Australia, Israel, Taiwan and Singapore, and have ensured that his institution – the Indian Institute of Technology, Kanpur – builds strong partnerships with highly ranked international universities.
Verma is also an advocate for open science. He states that the shackling of science, which is predominantly supported by public funds, is a phenomenon driven by publishers, while knowledge has been quintessentially open, accessible and shareable since time immemorial. The obvious benefits of open science have not escaped the attention of Indian science policy makers either.
'The Indian draft policy of [ Science, Technology and Innovation Policy] 2020 is committed to [an] open science framework that will allow seamless access to a repository of scientific data, shareable knowledge and information resources to all stakeholders of the Indian science, technology and innovation ecosystem,' he points out. 'The implementation will necessitate building the right structures, strengthening of legal frameworks and robust policies to ensure a sustainable open science movement.'
Family connection
Verma credits his father for his pursuit of a chemical sciences career. 'I grew up watching my late father prepare his chemistry lectures on a variety of topics and his pioneering research work on heterocyclic compounds as tribological additives. Bonds, rings and curly arrows always fascinated me. Not surprisingly, it was an easy decision to take up chemistry,' he recalls.
'My research at the chemistry-biology interface was fuelled by my choice of PhD thesis problem that concerned development of anti-HIV therapeutics targeted toward viral coat and key enzymes essential for HIV replication,' Verma says. 'The rigorous work at the university [of Illinios Medical Centre, US] allowed me to think in several directions and created the right aptitude for applying chemistry principles in targeting biological systems.'
Balancing work with life is tough, but Verma says his excellent team helps him. 'The problems we tackle at the interface of chemistry and biology are very exciting for us and they present the right impetus, complexity and challenge to work overtime and bring new results. The old adage "where there is a will, there is a way!" is truly working for me.'
His current focus is now on chemical neuroscience, small molecule stem cell interactions and novel antibiotics. He is planning to get more involved in translational research and wants to launch a start-up. 'I hope to find the right partners and give my best to bring value to my research results by serving humanity with a real, commercial product coming out of a decade-long research programme on thermostable insulin,' he says.
Verma says that the ideas, inventions and innovations generated at the local level could be quickly translated for global good through a robust R&D supply chain. 'Science is critical for societal benefit and sustenance of humanity. Most of the fundamental and applied research problems and grand challenges existing at the national level converge with global trends and needs. Given the mobility of people and common threat to our existence as articulated by [the] United Nations [sustainable development goals], local R&D challenges have [the] potential to morph into global consequences.'