Legislation aims to tackle stigma of testing and treatment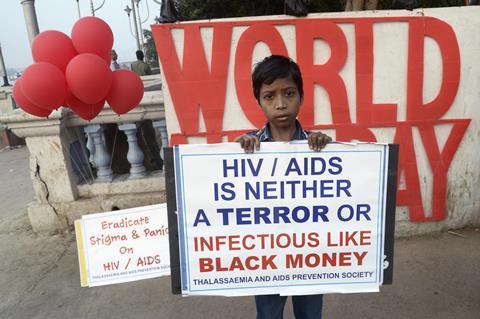 The Indian parliament has recently approved a new law to protect the human rights of people living with HIV/Aids, but health advocates are complaining that it fails to address treatment concerns.
India's health minister Jagat Prakash Nadda hailed the bill, which passed in April, as 'historic'. Nadda said it would be a 'criminal offence' to discriminate against people living with HIV/Aids. The HIV/Aids bill has been in the making for well over a decade, and has been wending its way through the Indian parliament for the past three years.
Many researchers and experts welcomed the bill. 'The most significant contribution of the bill will be to decrease stigma and discrimination towards people living with HIV, ' says Ashok Kumar Agarwal at Public Health Foundation of India, a partially government-funded thinktank. There is still widespread stigma surrounding HIV and Aids in the country.
India made anti-retroviral (ARV) drugs free for patients in 2004. Since then the country has brought down the rate of new infections significantly. India's overall HIV prevalence rate is now just 0.26%. New infections in 2015 were 86,000 – a 32% decline from 2007. But absolute numbers remain high – the country still has an estimated 2.1 million people living with HIV. Many remain undetected. Only about a million people are presently receiving ARV treatment and the new bill could encourage at-risk populations to get tested and seek treatment.
Currently, the country's HIV/Aids programme is largely public-funded currently, even though it receives generous grants from many international agencies such as the Global Fund to Fight Aids, Tuberculosis and Malaria. This year the government has pledged INR20 billion (£240 million) to fight HIV/Aids.
The government has also launched a new policy called test and treat in line with the latest World Health Organization guidelines. This means someone testing positive for HIV is eligible for immediate treatment. Previously they had to wait for their CD4 immune cell count to fall to a certain level before receiving ARV drugs. CD4 cell counts deteriorate as the infection advances. 'The combination of the bill and the test and treat policy will go a long way in providing treatment to all,' UNAIDS India director Oussama Tawil tells Chemistry World.
Running short
Thanks to India's generic drugmakers, the cost of anti-HIV drugs has significantly dropped over the years to just INR5320 (£64) per person per year. Even though the country's pharmaceutical industry supplies 80% of ARV drugs for the developing world, many of the government's HIV clinics face acute shortages from time to time. 'We have the pharmacies, we have the money and we have a government agency looking after the HIV programme, but then why do stock-outs happen every now and then?' said Loon Gangte, a spokesperson for Delhi Network for Positive People (DNP+).
DNP+ reported 14 instances of shortages or stock-outs of ARVs at treatment centers in the New Delhi region in 2016. There have also been reports that the government's national HIV/Aids programme run out of children's anti-retroviral syrup in March.
Stock-outs not only put the immunity of patients at risk, but they also expose them to the risk of developing drug resistance. Research has shown that stock-outs are a major cause of the emergence of drug resistance to anti-HIV drugs in developing countries.
Agarwal explains that stock-outs mostly occur because of problems in supply chain management and procurement. 'India is large and the status of infrastructure varies widely across the country,' said Agarwal. 'The operation of the [drug procurement] system, particularly in remote locations, needs to be strengthened.' For example, slow internet speeds can really disrupt the system.' Late payments to drug companies has also led to delays in the delivery of medicines.
Critics of the bill claim that the caveat on providing treatment 'as far as possible' weakens the entire law. Gangte says that if the government is unable to provide treatment, it will use this get out clause.
With the new bill empowering patients, the government's task only gets harder. 'More people would find themselves confident to come out and seek treatment,' said Agarwal. 'That means the need for drugs and logistics of drugs will need to be revamped at different treatment centres,' said Agarwal.