Facility set to close without pension reforms and government help to fund ethane shipping terminal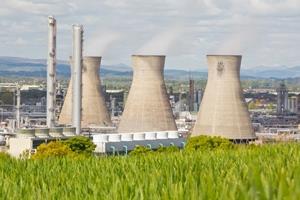 Speciality chemicals producer Ineos has warned that it will shut its Grangemouth, UK, petrochemical operations by 2017 unless its employees, the UK and Scottish governments agree to a survival plan. 'The petrochemical business at Grangemouth has reached a crossroads,' said Calum Maclean, chairman of Ineos Petrochemicals UK in a statement. 'Unless we reform our cost base and secure new gas raw materials, the site will close.'
The company says the 1,400-employee Grangemouth site's two operations, crude oil refining and petrochemicals, are together losing £10 million a month. Cracking of ethane to produce ethylene and other raw materials is central to the petrochemical plant's particular problem, explains Ineos spokesperson Richard Longden. 'Ethane from the North Sea is running out, and we're running the gas cracker at 50% of capacity,' he tells Chemistry World. 'We've also got massive costs on site, related to our pension scheme, which is 65% of the cost of employment.'
Ineos is therefore proposing a survival plan that involves building a terminal so that it can ship low-cost ethane from North America. The company says it can invest £350 million towards this terminal, and wants grants and loan guarantees totalling £150 million from the Scottish and UK governments. But as Ineos also wants to reform pensions at the site, its employees are already taking industrial action, echoing a similar battle that erupted disastrously in 2008.
The world's petrochemical industry has been built around ethane
North America's access to cheap ethane poses a competitive threat, highlights Dan Lippe, founder of Petral Consulting Company in Houston, Texas. 'In 2008, our crude oil people started applying hydraulic fracturing and horizontal drilling, bringing up gas that is rich in natural gas liquids, like ethane, propane and butane,' he explains. 'Ethane is only good for one thing: making ethylene. But the world's petrochemical industry has been built around this one little molecule.' North American ethane is now a much lower-cost starting material than alternatives such as naphtha, he adds. 'We're going to be exporting polyethylene to every place that has higher costs,' Lippe predicts.
Ineos took over Grangemouth in 2005, among several refining and chemical manufacturing facilities in the Innovene business unit it bought from BP for $9 billion (£5.1 billion). That heritage means it uses crude oil and natural gas from the North Sea via BP's Kinneil processing plant. However, Ineos' gas agreement with North Sea operators expires in 2017. Ineos intends to start shipping ethane from the US to Europe in 2015, and has begun building a new tank to receive the gas at its Rafnes site in Norway. Lippe is unaware of other European companies having similar agreements. 'Europe has relatively few ethylene plants whose location gives them access to ocean ports,' he underlines.
Ineos now wants to ship ethane to Grangemouth, but says that 'the site's lack of competitiveness makes the necessary investment impossible, without change'. Beyond raw material availability, the key issue in Ineos' survival plan is the site's pension scheme, which it says has a £200 million deficit. It proposes closing and replacing the existing final salary scheme, which was at the centre of a 2008 strike reputed to have cost Ineos £170 million. This comes as Ineos is in talks with the Unite union to avert a 48 hour strike starting on 20 October over a non-pension related dispute.
Ian Shott, now managing partner at investment and advisory firm Shott Trinova, experienced similar issues as chief operating officer of Chirex in Stamford, US, and founder of Excelsyn in Holywell, UK. 'We looked hard and fast at putting a business plan together with employers, unions, consultation committees, and enacting it,' he recalls. 'I believe very strongly in discussing plans with employees and everyone coming up with an objective view on what to do.'
Shott also underlines the need for the UK to develop its native shale gas, a point made by the 'Chemical Growth Partnership' he's helping launch on 22 October. 'Any chemical or materials company in the UK needs a competitive energy and raw material cost base,' Shott says. 'The UK has a very strong position with the amount of shale gas and how recoverable it is, compared to western continental Europe. Plus our refineries are designed to take gas feedstock, so the conversion costs are relatively minor.'