$25bn Forest Labs takeover will see generics giant take on patented products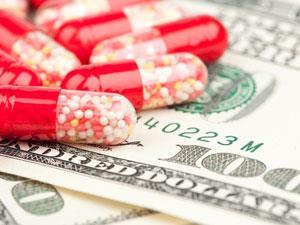 Generic drug giant Actavis is to buy speciality pharmaceutical firm Forest Labs in a deal worth about $25 billion (£15 billion), bringing Actavis into the drug discovery business. The takeover is the largest in the pharma sector since the three megamergers of 2009–10 – Pfizer's acquisition of Wyeth, Merck's purchase of Schering-Plough, and the Roche–Genentech deal. Only Sanofi's $20 billion purchase of Genzyme in 2011 comes close.
New York-headquartered Forest has been the subject of takeover speculation for some time. AstraZeneca was rumoured to be a suitor late last year, although a $15 billion valuation failed to excite shareholders. Forest's shares spiked 30% on the takeover news, and the acquisition is expected to be completed by the middle of this year. Somewhat unusually for a takeover, Forest's chief executive Brent Saunders is joining the Actavis board rather than leaving.
The $25 billion price tag represents a significant price premium, even after Forest's market capitalisation inflated in the light of speculation. 'This indicates trends currently seen across the entire pharmaceutical industry, whereby the demand for assets often exceeds the perceived value of those assets, leading to premium deal prices being commanded by shareholders,' says Joshua Owide, director of healthcare industry dynamics at research company GlobalData.
Forest's pharmaceutical portfolio generated $4.6 billion in sales in 2012. It has a number of patent-protected products, including Linzess (linaclotide), licensed in 2012 for irritable bowel syndrome. Its phosphodiesterase-4 inhibitor Daliresp (roflumilast) and long-acting inhaled muscarinic antagonist Tudorza (aclidinium bromide) both treat chronic obstructive pulmonary disease. The pipeline was boosted as recently as January with the $2.9 billion acquisition of Aptalis for its gastrointestinal disease and cystic fibrosis portfolio.
Will Forest simply be consumed into Actavis, or will it be kept separate and allowed to maintain its distinctive research-based culture?
Actavis' business is rooted in the generics sector, and this is just the latest in a string of deals that has pushed it up to third place in the generics market. A reverse takeover by rival Watson in 2012 was followed up last October by the $8.5 billion purchase of women's healthcare and dermatology specialist Warner Chilcott. This last acquisition enabled it to move its corporate headquarters to Dublin, where it now benefits from low Irish tax rates.
Historically, generic and innovator pharma companies have made uncomfortable bedfellows, according to Kevin Bottomley, managing director at strategic business advisors Results Healthcare. 'Their operational cultures are very different, and it will be interesting to see how they manage Forest within the larger Actavis group,' he says. 'Will it simply be consumed, or will it be kept separate and allowed to maintain its distinctive research-based culture? Novartis keeps its Sandoz generics business separate because the operational cultures are so different, and the people you need to make a success of a generics company are not necessarily the ones you need in a pharma company.'
The margins for patented drugs are, clearly, much higher than those for generics, and Bottomley believes we may see more such deals in future. 'All companies seek to move up the value chain, and going from non-branded to branded generics, and then from there to patented drugs, is an obvious progression,' he says. 'In the past, it has been difficult for generics companies to outbid pharma companies for these kinds of assets. But they can do wonders for the overall profitability of a company.'
Other generics-led companies have been active in the acquisition space recently. Valeant, for example, has been pursuing an aggressive expansion strategy with a stated aim of becoming one of the world's top five pharma companies by market capitalisation. Recent deals include the 2013 purchase of Bausch and Lomb and, at the beginning of this month, PreCision Dermatology.
This contrasts sharply with deals made by big pharma firms recently, where Bottomley believes there is less pressure at the moment. In addition to the inflated prices being demanded by shareholders and private equity backers, many have healthy Phase III pipelines that are expensive to maintain. 'A Phase III study costs maybe $100-200 million, so if five or six are being run in parallel, that's a lot of cash,' he says. 'This is where many pharma companies are focusing their efforts, and recent deals have been much smaller.'