Cause of accident at US DuPont plant is still under investigation
A chemical leak at a DuPont plant near La Porte, US killed four workers and hospitalised another on 15 November. The cause of the accident remains under investigation, but it involved a methyl mercaptan leak. The chemical is used to synthesise insecticides and fungicides, and also to odorise natural gas for safety purposes.
A 'top-to-bottom review' of the incident has been initiated by the company, plant manager Randall Clements said in a statement. He noted that the mercaptan release was contained, and it appears that several of the affected employees were responding to a leaking valve.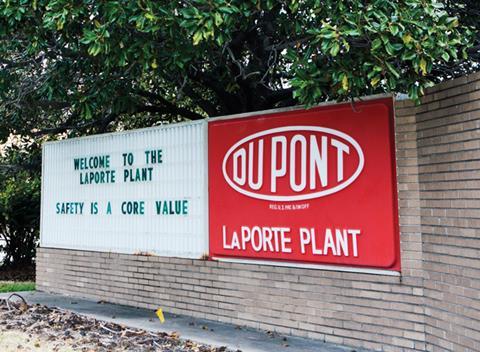 DuPont explained that the immediate investigation was complicated by the fact that the accident scene was 'a contaminated unit' that no qualified medical personnel could enter until deemed safe, since they were not trained in the use of appropriate personal protective equipment.
Meanwhile, the US Chemical Safety Board (CSB) sent a team to the plant on 16 November to begin its own enquiry. 'Our goal in investigating this accident is to determine the root cause and make recommendations to prevent any similar accidents throughout the industry,' said the CSB's chairman, Rafael Moure-Eraso.
The board has investigated four accidents at US DuPont facilities in recent history, including three incidents that occurred in January 2010 within a 33-hour period at the company's plant in Belle. Those included a phosgene leak that killed a worker, a release of chloromethane that went undetected for several days, and a release from a sulfuric acid unit.
Also in 2010, an incident at a DuPont plant outside of Buffalo, New York fatally injured a welder who was repairing the agitator support assembly inside a tank. The CSB later determined that flammable vinyl fluoride vapour from interconnected tanks had flowed undetected into the tank and ignited.