A new protocol will guide the collection of honey reference samples for the creation of standardised authenticity databases. The protocol is the first of its kind in the UK and will aid in detecting adulterated honey, where products are typically bulked out with cheap sugar syrups.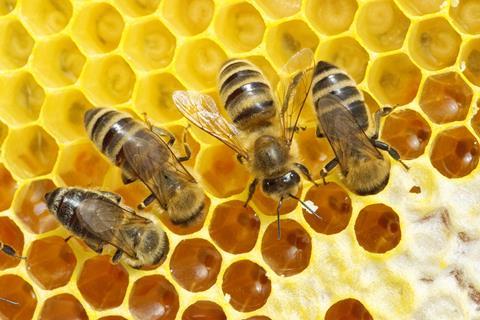 Several commercial authenticity databases are currently used globally for assessing the integrity of honey. But until now there has been no protocol published detailing the requirements for the collection of honey reference samples that are used to verify commercial products' authenticity.
Since 2018, the government chemist, the Department for Environment, Food and Rural Affairs, the Food Standards Agency and Food Standards Scotland have been working to identify some of the underpinning scientific issues related to honey authenticity and to establish a robust protocol.
'There are numerous different tests that have been developed for adulteration testing,' explains David Hoyland, an independent consultant with over 20 years of expertise in honey, and secretary on the working group who developed the protocol.
'Effectively any honey adulteration test requires a database of authentic samples in order to be able to make a comparison with the test sample to say whether it is the same or different and therefore adulterated,' he adds. 'Many years ago a number of commercial organisations' laboratories started to establish the databases, but there have always been question marks on the provenance of these databases and the samples that have been used, and what decision criteria have been used to introduce the samples into those databases.'
The protocol defines a practical process for obtaining and handling reference samples at different points in the honey supply chain, and specifies what associated records, documents and other considerations are necessary for samples to be deemed acceptable for inclusion in an authenticity database.
Michael Walker, an honorary professor at Queen's University Belfast, in the UK, and prior head of the government chemist programme at LGC says honey authenticity is complicated by the fact that honey is a natural product, made all over the world from a variety of plants and under a variety of climate conditions.
'Bee populations are declining, so honey is a highly valued product; it's become scarce because the bees are struggling and then the temptation might be to add some sugars to the honey to bulk it out,' he adds. 'You can blend your premium honey, which demands a high price, with cheaper honey and you can add sugar syrups [which] are being made in quite sophisticated ways now so that they're more difficult to detect because they've worked closely mimic the sugar profile of honey itself.'
Walker explains that to establish a database key information about the honey samples must be collected, including isotope ratio, mass spectra, specific markers and nuclear magnetic resonance signals.
'These are the steps you should take to assure yourself that data points in your database represent a dataset of authentic honey, but also represent the temporal variations from year to year from season to season, the climatic variations, the geographical variation, the beekeeping method variations,' he adds.
'This report and the recommendations from this report are very valuable set of rules for how the data should be established, populated, validated, curated and kept going.'

Julia joined the Chemistry World team as Science correspondent in May 2023. She previously spent eight years leading the clinical and science content at The Pharmaceutical Journal, the official journal of the Royal Pharmaceutical Society, a membership body for pharmacists.
View full profile