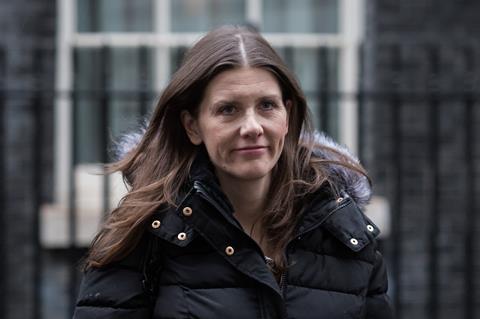 The UK now has a dedicated government department for science, innovation and technology following prime minister Rishi Sunak's cabinet reshuffle. The new department will be led by Michelle Donelan, who leaves her current role as culture secretary.
Prior to Tuesday's announcement, government science policy was led by ministers sitting within the government's business department (BEIS). The creation of a dedicated science department means that Donelan will be able to raise issues relating to the research sector at cabinet meetings. Several senior figures in the science community welcomed the news, with many expressing hope that the move will mean matters related to science policy will be given higher priority within government.
'Creating a stand-alone Department for Science, Innovation and Technology is a highly welcome move in support of the government's ambition to secure the UK's position as a science superpower, and is necessary to bring about economic growth and societal good,' said Paul Nurse, director of the Francis Crick Institute.
'A first step will be to deliver government policy to safeguard our long standing and valuable research relationships with the rest of Europe through association with Horizon Europe, which will be possible if there is agreement over the Northern Ireland Protocol,' he added.
Resolving the ongoing dispute over the UK's participation in Horizon Europe is a key theme that many figures in the science community have called on Donelan to prioritise.
'Michelle Donelan's first job must be to secure association to Horizon Europe and other EU science programmes,' Adrian Smith, the president of the Royal Society, said. 'These schemes support outstanding international collaboration and without being part of them we are undermining the prime minister's stated ambition for the UK to be at the forefront of science and technology globally.'
Tanya Sheridan, Royal Society of Chemistry head of policy and evidence, echoes this point. 'The new Secretary of State for Science, Innovation and Technology should prioritise UK association to Horizon Europe, long-term investment in research, ensuring a welcoming environment for international collaboration, a skilled and motivated scientific workforce, and the support for innovative small and medium companies to deliver new technologies and drive green economic growth.'
Donelan has previously served as universities minister and as education secretary, although her stint in the latter position was for just two days before she left the post amid a raft of government resignations that forced former prime minister Boris Johnson out of office.
'It is good to see a dedicated post of science minister again and good too that it is someone with experience of this area as previous universities' minister. She is undoubtedly aware of the problems Brexit has caused higher education and science and the importance of encouraging foreign students and staff to come to the UK,' said UCL neuroscientist John Hardy. 'What we need, as well as an understanding of these problems, is a period of stability: ministers need to be able to learn their brief and the science and research portfolio in particular needs stable leadership rather than musical chairs.'
Current science minister George Freeman has said that he will move from BEIS to the new science department to continue in his role.

Jamie Durrani is senior science correspondent for Chemistry World. He reports on the latest chemistry research and related topics including environment, energy and science policy.
View full profile