Meet Pinkie Ntola, an early-career Black researcher who is passionate about being a credible scientist, an inspiring teacher and a supportive mentor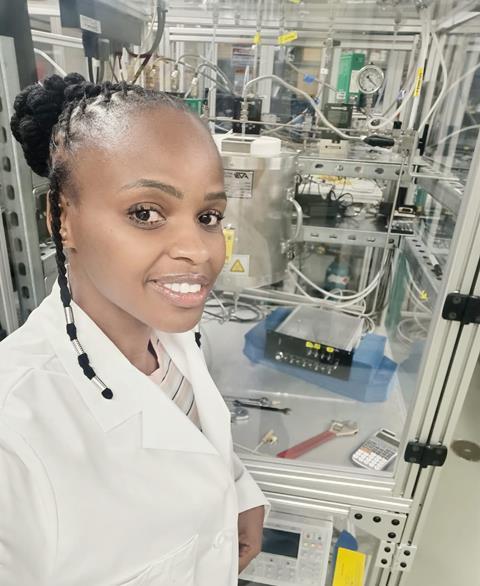 Pinkie Ntola is on a mission to elevate South Africa's scientific reputation. With multiple roles in teaching and administration previously dominating her career, this scientist from the Durban University of Technology is now determined for her research to gain attention on a global stage.
'I like to say that I am an emerging-materials scientist, because I'm very much interested in working on material design and characterising,' says Ntola. Her PhD focused on heterogenous catalysis for converting low value chemicals such as paraffins to high value chemicals like octane using supported metal oxides. Today, she is still making supported metal oxides, but her primary intention has shifted to reducing carbon dioxide emissions.
'With catalysis we want to have our bread buttered on both sides,' says Ntola, explaining how developing a catalyst involves iterating to develop a material with high selectivity and performance, while also minimising any environmental impact.
Recently, her team has been designing and developing magnesium oxide-supported vanadium oxide catalysts to activate n-octane.1,2 They make the catalysts using solution combustion, which involves an exothermic reaction in a solution between a fuel and an oxidiser. Altering the starting fuel creates catalysts with different morphologies and varying levels of vanadium, they found. As a result, they understand how to design a version that deposits minimal coke, that forms fewer oxygenates and that has high activity and selectivity towards value-added products – a particular challenge since carbon dioxide typically dominates as an undesired byproduct.
Ntola is collaborating with researchers at the University of Groningen in the Netherlands on a couple of projects. One involves developing an iron-based catalyst for the Fischer–Tropsch process. 'We want to improve the attrition property by introducing a spray-drying technique during the preparation of the precipitated iron catalyst,' says Ntola remarking that attrition resistance is a key design parameter for catalysts used in slurry bed reactors.
International visibility
Securing international partnerships means Ntola can send her students to gain news skills in better-equipped labs, while also making her research more visible. This visibility is important to Ntola, especially because she never gets oral presentations – only ever posters – when applying to present at international conferences. Ntola is not alone. Many colleagues, especially women of colour, report similar experiences. It's hard not to feel discouraged. But Ntola also says that 'something needs to be done in our research to elevate it to a standard that is globally recognised', as well as breaking down decades-old bigotries.
Nevertheless, Ntola is proud of her contributions to her field, having recently written a review article (to be published by the end of the year) on n-octane oxidation after noticing a gap in the literature. 'I'm excited about it because it's a first… nobody's written so many details about n-octane.'
As well as working with external collaborators, Ntola manages a research team of four research assistants, eight master students and one PhD student. She maintains a nurturing environment where students present their research on a weekly basis. If there's any confusion on a specific subject area, she asks a research assistant to prepare a presentation to improve the team's theoretical and practical understanding.
Ntola recently enrolled herself on a teaching course, emphasising that teaching quality is often neglected in the pursuit of research. She also promotes science in local schools, and liaises with industry, to fuel her ardour for public engagement.
Once a colleague criticised Ntola for doing too much. 'I never thought that I would be told to slow down… that I'm supervising too many students. I was trying to highlight to the person that we have different capacities, different abilities, different time management.' Ntola was fortunate to have a manager who didn't believe in limiting those who can manage additional duties without hindering their performance or personal wellbeing. Eventually, through several meetings and assessments with managers, she was able to corroborate her productivity and accomplishments to her seniors.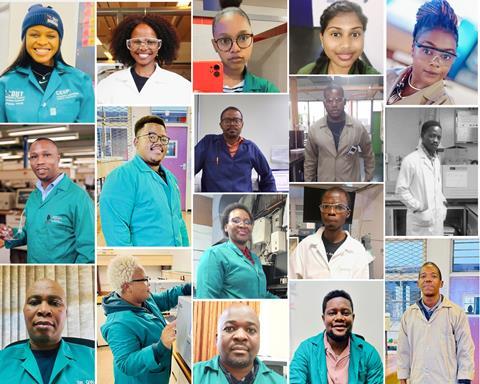 Moreover, in 2022, Ntola's department awarded her a recognition in research certificate. 'While you're doing your work and minding your own business, others are watching,' Ntola explains. Her students often admire such achievements when she shares them on social media and LinkedIn, fuelling her motivation. 'Doing things in a way that inspires other people, especially students, makes me feel really good.'
Right now, Ntola is happy to be part of a team that values her multifaceted character and is excited about developing catalysts with real-world applications, all while contributing to her country's economic, environmental and reputational progress.

Zahra completed a PhD in chemistry in 2023 at University College London (UCL) and A*STAR (Singapore). She is interested in science reporting and passionate about sharing diverse voices in chemistry to a global audience, making the stories inclusive and accessible to all, and inspiring the next generation to pursue science.
View full profile