The polar storm that descended into the US Gulf Coast on 14 February, bringing unprecedented prolonged freezing temperatures to many parts of Texas, dramatically disrupted petrochemical supplies. Approximately 75% of total US ethylene capacity remained offline as of 23 February, according to analysis by Kevin McCarthy, who covers the global chemicals industry for the Connecticut-based equity research firm Vertical Research Partners, and colleagues.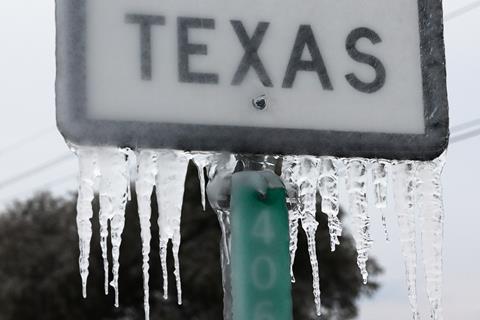 The situation in the aftermath of what's been dubbed the 'icepocalypse' of 2021 is very fluid, with the status of plant operations being updated continually, but the data coming in reveals how badly Texas-based chemicals capacity has been impacted by the record-breaking cold weather. Texas is the petrochemical hub of America.
As of 23 February, 100% of epichlorohydrin production was offline, as was about 90% of ethylene glycol production, more than 70% of polypropylene production, over 60% of epoxy resins production, and about 40% of propylene production, Vertical Research Partners finds.
Shutdowns include one or more crackers operated by Chevron Phillips Chemical, Dow, ExxonMobil, Formosa Plastics, Lyondell and Motiva, according to McCarthy's research note. In addition, Sasol has also reportedly reduced rates at Lake Charles, Louisiana and Indorama appears to have throttled back or shut down ethylene and ethylene oxide at Port Neches, Texas. Likewise, Lyondell's ethylene oxide is down at Bayport, Texas.
Most of the 150-plus petrochemical facilities in the Houston area are expecting to come back online sometime this week, according to Chad Burke, president and chief executive of the Economic Alliance Houston Port Region. Some are working through repairs while others are waiting on utilities and feedstock supplies to be restored, he says.
Waiting on utilities
An anonymous representative of one of the largest integrated refining and chemical companies in the Houston port area reports being in 'various stages of startup' across its different facilities in the area. Meanwhile, a plant manager at another chemical company in the region says the majority of the roughly 75 sites in the vicinity, including their own, are down waiting to receive utilities like natural gas, steam, nitrogen and water. 'At this stage it looks like another week before utilities return,' the plant manager, who also preferred not to be identified, said on 22 February.
Although it is difficult to estimate the impact of these facilities being down for the better part of two weeks, it's bound to be significant since Houston is the largest petrochemical complex in the world, producing more than 40% of America's chemicals and about 25% of its fuels.
'The vast majority of petrochemical plants and refineries in the state ceased all production manufacturing and were idling, except for those that were generating power to help provide added support to the state's electric grid,' Hector Rivero, president and chief executive of the Texas Chemical Council and the Association of Chemical Industry of Texas, tells Chemistry World.
At this stage it looks like another week before utilities return
Because Texas doesn't normally have such extreme weather, the state is not prepared and resourced to handle such conditions. There have been ice storms in Texas over the years, but they are generally brief events. This most recent storm was a multi-day hard freeze.
Many chemical plants in the state and nearby Louisiana are not designed to operate in such extreme conditions, so equipment failures and frozen process lines can decrease operational reliability, explained McCarthy and colleagues in their recent research note. They also cautioned that 'unfavourable network effects' can exacerbate the situation because many assets are dependent upon neighbouring plants for utilities, like electric power, and the supply of feedstock or intermediates required to operate.
A 'mad scramble'
In fact, the storm's extended freeze caused downed power lines and power loss across Texas, and the state had to initiate rolling blackouts to try to ensure that power demand did not exceed supply. These forced outages will certainly impact global supply and demand for chemicals, Rivero says. Indeed, he points out that the price of gas has already soared in parts of Texas and across the US.
'With all of these facilities being shut down, a lot of the supply chain was also impacted,' Rivero adds. 'It is kind of a mad scramble to secure the resources needed to be able to come back online, and that is starting to happen now.'
A key lesson learned is the need to improve the security of the electricity supply regionally, experts suggest. Aside from the temporary challenges posed by the ice storm, which were severe, the scarcity of electric power also created significant consequences for chemical companies. Manufacturing plants had to shut down because of the need to divert and conserve electric power so that it could be preserved for residential and emergency needs. That is a weakness in the system that had remained under-appreciated prior to this severe weather event.
But there is perhaps some good news to be found in a surprising place. The ongoing pandemic has significantly changed the supply chain, and that could help with the recovery of Texas' petrochemical industry from this natural disaster.
The interruptions caused by the Covid-19 shutdowns actually deepened the inventories of feedstocks, intermediate products like chemicals and resins, and finished products, according to Burke. 'Both manufacturers and customers recognised the importance of increasing inventories to insulate against supply chain interruptions,' he explains. 'Those lessons learned should actually serve to decrease the time it takes now to get back into production.'

Rebecca became the US Correspondent for Chemistry World in September 2014, based out of Washington, DC, after writing for the magazine on a freelance basis since 2007.
View full profile