Petrochemical sites along Houston's seaboard are offline, and flooding has caused explosions at an Arkema facility
Hurricane Harvey has ravaged south-east Texas – the focal point of America's speciality and petrochemicals industry – profoundly affecting the sector. Of the 132 petrochemical sites located along the Houston Ship Channel, including refineries and speciality chemical facilities, at least one-third and up to half are offline, according to Bob Mitchell, president of the Bay Area Houston Economic Partnership.
'There have been a tremendous number of closures,' Mitchell tells Chemistry World. 'We won't know the magnitude for another week or so because speciality chemical companies are very protective,' he says. 'It is a competitive world,' Mitchell explains, noting that rival companies can double their production, or market their products in particular places, in order to take advantage of the situation to gain market share.
The storm and its aftermath have taken more than half of US ethylene and polyethylene capacity, and a third of chlor-alkali capacity offline
Kevin McCarthy, an analyst and partner at the industrials and materials sectors consulting firm Vertical Research Partners, says the combination of Harvey's path, duration and total rainfall is 'wreaking havoc' with the supply side of the US chemicals industry. 'We certainly haven't seen anything quite like it in our 18 years of following chemical stocks on Wall Street,' he and colleagues wrote in a research note on 30 August.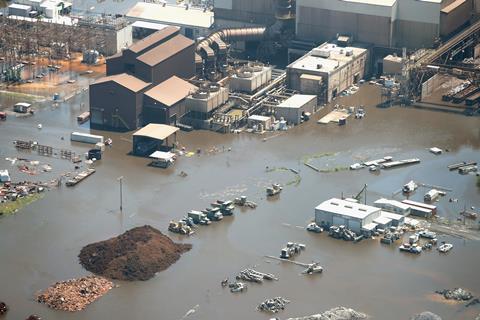 The analysts estimated that the storm and its aftermath have taken more than half of US ethylene capacity offline, as well as around half of the country's polyethylene resin capacity, with around a third of US chlor-alkali capacity offline or working at reduced rates.
Among the many closures, Chevron Phillips has shut down operations at three of its facilities, and ExxonMobil has stopped work at a large refinery. DuPont has taken its olefins complex offline, and speciality chemical company Lubrizol has suspended operations at its facilities in the Houston area.
As well as floodwater affecting plants, some have closed because they can't move supplies and products into or out of the Port of Houston, explains Mitchell. 'When you have 100-plus ships lined up to get in to unload, and we have products here that need to go out on the ships, but can't, then that's a problem.'
Waiting game
At Arkema's plant in Crosby, unprecedented flooding levels overwhelmed the primary power supply as well as two emergency backups. As a result, Arkema lost critical refrigeration of the organic peroxides that it manufactures at the plant. As those products warm up, they begin to degrade and release heat, which builds up pressure inside the storage vessels, causing them to rupture, and the organic solvents in which the peroxides are dissolved to catch fire.
For more on organic peroxides and the Arkema incident, see our explainer.
To prevent such a scenario, the company brought in nine refrigerated storage containers, and transferred the chemicals into them. However, one of those containers warmed to dangerous levels. The container burst – locals reported hearing two blasts – and the peroxides within ignited, sending black smoke about 40 feet into the air above the plant.
We cannot define specifically how long it is going to take for all of the material to degrade – whether it is today or tomorrow, we just don't know
The previous day, in anticipation of such an event, local officials had established an evacuation zone of 1.5 miles around the plant. About 15 members of the local sheriff's office were securing the perimeter when the incident occurred on 31 August. One of these was hospitalised with eye and throat irritation, while several others admitted themselves to hospital to be checked out. All were released from the hospital a few hours later with no ill-effects.
Officials from the local Sherriff's office and Fire Marshall's office said that all available information indicates that that the smoke from the burning peroxides is a non-toxic irritant, representing no significant public health threat. Indeed, the head of the US Environmental Protection Agency, Scott Pruitt, quickly confirmed that data his agency has received from aircraft surveillance reveal 'no concentrations of concern for toxic materials.'
Richard Rennard, Arkema's president of acrylic monomers for the Americas, was more cautious, noting that toxicity is relative and any smoke inhalation will irritate the lungs. 'I don't know the composition of the smoke, but it is certainly noxious,' he stated at a press conference. Rennard also said it is impossible to predict when, or if, the remaining eight containers of organic peroxides at the facility will ignite, but that the safest course of action is to allow the peroxides to degrade rather than intervening and putting lives at risk.
'We cannot define specifically how long it is going to take for all of the material to degrade – whether it is today or tomorrow, we just don't know,' he stated. 'It is not over, this is a very serious issue.'
Last year, the federal US Occupational Safety and Health Administration cited Arkema's facilty in Crosby for 'serious' safety violations, most of which involved its 'process safety management of highly hazardous chemicals.' The agency ultimately fined the chemical plant nearly $92,000 (£71,000) for these deficiencies, the bulk of which had to do with failing to prevent or minimise the consequences of catastrophic releases of toxic, reactive, flammable, or explosive chemicals.
Learning for the future
Beyond these immediate impacts of hurricane Harvey, the storm will likely lead to significant changes in disaster preparedness planning for chemical facilities across the country. The US Chemical Safety and Hazard Investigation Board (CSB) has initiated an investigation into the incident at Arkema, requesting significant documentation to determine the chemical process used at the Crosby site, the specific chemicals stored and produced there, and the implications for emergency preparedness and response efforts.
The types of weather events we are seeing in the Gulf could be a harbinger of things to come and will become more commonplace
Although the agency has launched its review, it will not physically deploy investigators to the facility until the emergency response activities have been completed and the site is deemed safe to enter.
'We see this as an opportunity for us to make additional chemical safety change,' said the CSB's chairwoman, Vanessa Allen Sutherland, during a 31 August briefing. 'We are the only US agency that would be doing this type of investigative work – if we were to be eliminated, there isn't another entity that is poised to fill in the gaps and do this deep, comprehensive root cause reporting,' she stated, referring to the fact that President Trump has proposed eliminating the CSB, which has sparked opposition.
Sutherland said many of her agency's previous investigations have revealed that inadequate emergency planning and response activities have contributed to, or exacerbated, the consequences of several chemical incidents. Chemical plants are not required to report to the CSB about their status in the aftermath of Harvey or other severe weather events unless there is an incident, but Sutherland highlighted the need to learn from such occasions. 'The types of weather events we are seeing in the Gulf could be a harbinger of things to come and will become more commonplace,' she warned.

Senior US correspondent, Chemistry World