US Judge rules there is insufficient evidence to bring criminal charges relating to peroxide fire caused by flooding in 2017
A Texas judge has dismissed the criminal charges case against French chemical giant Arkema, the chief executive of the company's North America division, and one of its plant managers, all related to emissions of hazardous chemicals during hurricane Harvey in August 2017. The storm caused flooding that knocked out power to the plant, which led to the organic peroxides stored there igniting once refrigerators, generators and backup cooling methods failed. The resulting fires forced 200 residents to evacuate and sent 21 first responders to hospital.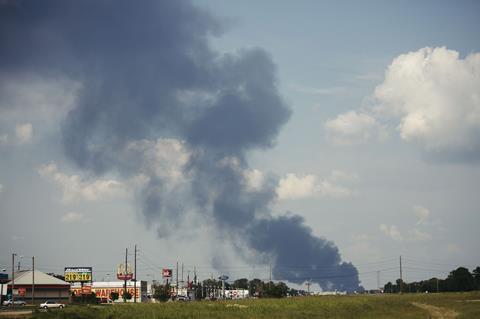 The US Chemical Safety Board's concluded in its May 2018 final report that Arkema didn't consider it a 'credible risk' that flooding could overwhelm its electrical and safety systems. The agency urged the chemical industry to better prepare for extreme weather events.
On 30 September, Judge Belinda Hill issued a 'directed verdict' acquitting Rich Rowe, chief executive of Arkema North America, of reckless emission of air pollutants. The next day, she used the same legal technique – which means there was insufficient evidence to bring the case to a jury – to throw out the state's case against Arkema and the manager of the Crosby, Texas plant.
The company welcomed the result, saying prosecutors at the district attorney's office had sought to criminalise the impact of a natural disaster. 'Our plant employees went to heroic lengths to protect the public, and when flooding overwhelmed their every effort, we proactively notified emergency responders and the public, days before the first fire started,' Arkema said in a statement, adding that it had explicitly warned emergency responders to wear respirators.
In September, Judge Hill had also dismissed assault charges against the company and its former vice president of logistics, which were related to injuries sustained by first responders to the fire. In addition, she had found that the prosecutors committed misconduct, but that this was unintentional.
Dane Schiller, a spokesman for the district attorney's office, called the judge's latest decision disappointing and frustrating. 'Today's ruling doesn't change the fact that dangerous chemicals on Arkema property ignited and were belched in a cloud of toxic smoke over the surrounding communities, and a first responder there protecting people is now on a lung-transplant list,' he said.

Rebecca became the US Correspondent for Chemistry World in September 2014, based out of Washington, DC, after writing for the magazine on a freelance basis since 2007.
View full profile