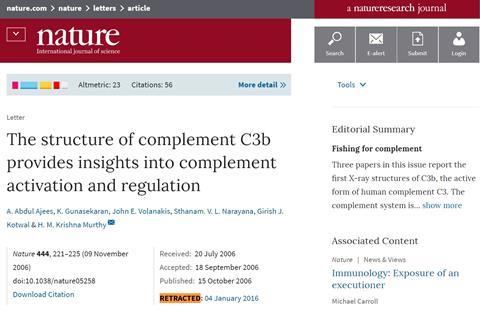 The US government's Office of Research Integrity (Ori) has banned a well-known chemist from any involvement in government funded research for 10 years. This comes more than a decade after his former university accused him of likely research misconduct and urged the retraction of several of his papers.
Protein crystallographer H M Krishna Murthy, formerly of the University of Alabama at Birmingham, falsified or fabricated x-ray crystallographic data for 11 protein structures in nine publications and in a dozen deposits he made to the Protein Data Bank, Ori announced on 10 April. The Protein Data Bank is a free worldwide repository of the 3D structures of large biological molecules, funded by US science agencies.
Murthy is not only barred from receiving US funding for a decade, he is also not allowed to advise the government, including serving on advisory committees and peer review panels. Ori said it will notify the relevant journals, as well as the Protein Data Bank, that certain of Murthy's publications require retraction or correction.
Four of the nine papers at issue have already been retracted, another two have received an expression of concern and three remain unchanged, according to the Retraction Watch blog. Researchers have cited his falsified publications at least 622 times by other researchers, according to Retraction Watch.
Ori's announcement came after a judge rejected his appeal, clearing the way for agency action. 'A committee found the allegations to be substantiated and that Dr Murthy was solely responsible for the misconduct,' said Pam Bounelis, the University of Alabama at Birmingham's research integrity officer and assistant vice president for research. She noted that the university 'took appropriate action to correct the scientific record', and that the university no longer employs Murthy.
Wanda Jones, Ori's interim director, said the Murthy investigation has required 'years – and countless hours of Ori work – to resolve'. In addition, she said the university has devoted a 'massive amount of time and effort' to the inquiry and investigation.

Rebecca became the US Correspondent for Chemistry World in September 2014, based out of Washington, DC, after writing for the magazine on a freelance basis since 2007.
View full profile