Coolant leak means experiments at the research station are unlikely to start again until the summer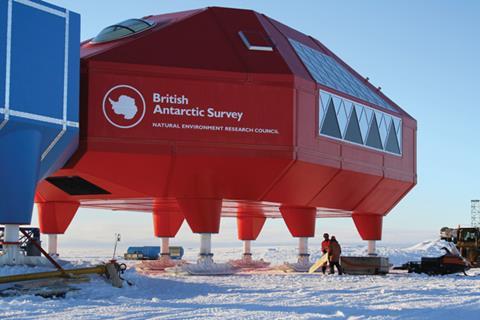 A power outage has halted research at the Halley Research Station in Antarctica and might not start again for the remainder of the Antarctic winter in order to conserve power for heating the station, according to officials at the Cambridge-based British Antarctic Survey (BAS), which operates Halley.
Halley is not accessible to the outside world during winter and the BAS says the overriding priority now is to ensure the safety of the 13 people spending the winter there as they endure unusually cold temperatures, which at times are dipping as low as -55°C.
'All science, apart from meteorological observations for weather forecasting, has been stopped for the time being,' BAS spokeswoman Linda Capper tells Chemistry World. 'Our science teams are currently looking at options to resume planned work as soon as possible.'
A large portion of the research that takes place at Halley, such as at the Clean Air Sector Laboratory (CASLab), is chemistry-based, but the BAS chemists usually only work there during the Antarctic summer months. The goals of CASLab include characterisation of coastal Antarctic atmospheric chemistry and studying snow photochemistry and the air–snow exchange.
Capper says Halley will not be accessible again until the beginning of the Antarctic summer in November, when a BAS aircraft is due to arrive. Ships are expected in December. But Capper says: 'Our operations team is currently reviewing options for an earlier visit.'
Halley lost power on 30 July after the station's generators overheated and shut down after a large coolant leak from the main arterial pipe in the station's heating system. After 19 hours of work, the Halley team was able to restore power and some heating to the station, BAS said in a statement. At present, the power supply is being kept stable, but the leak in the main arterial pipe cannot be repaired.
'Our first concern is always the safety and well-being of the team here,' Halley base commander John Eager said in a statement. 'We are doing our utmost to protect, preserve and maintain as much of the station infrastructure as possible so that scientific work can be restarted in the coming summer season.'
It is not yet clear what effect the power outage will have on research projects planned for the Antarctic summer.
'We hope to resume science plans as soon as possible and are investigating the impact in detail right now,' Capper says. 'Some work planned for the forthcoming Antarctic summer will be either postponed or re-routed through another station.'