Cost and complexity of European law hampers innovation and excludes SMEs
Biocides are among the most tightly regulated groups of chemicals in Europe. After all, anything designed to kill or deter microorganisms could pose a danger to the environment or human health. But companies are warning that strict EU law, aimed at ensuring the disinfectants, preservatives and pest control chemicals we use are safe, has an unwanted side-effect. Small and medium-sized enterprises (SMEs) cannot cope and are leaving the market, with potentially drastic consequences for the sector.
'We invested an average of 2.5% of our annual European turnover into complying with biocides legislation in the last five years. For a small company, that's losing a lot of commercial power in a competitive market,' says Stefaan Verschaeve from Belgian disinfectant formulator, Sopura.
Five years ago, the EU began implementing a complex legal framework whereby each biocidal active substance, and each product containing one, has to undergo a rigorous approval procedure.
I thought it would cost us half as much as it has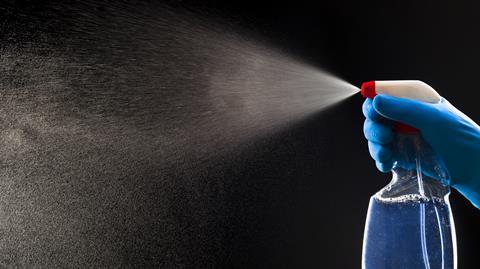 The biocidal products regulation (BPR) puts the onus on companies to generate data proving that the substance or product they want to sell is safe and effective, similar to the more general EU regulation on registration, evaluation, authorisation and restriction of chemicals (Reach). Then, they apply for market approval, by one of several routes involving the European Chemicals Agency (Echa) and responsible authorities in each EU member state.
But Verschaeve says it has taken many SMEs by surprise how costly and time-consuming this process really is. 'I thought it would cost us half as much as it has,' he admits.
Industry reports have found that the average cost for a product authorisation under the BPR is three times higher than it was under its predecessor law, the biocidal products directive (BPD). For a new substance, companies have to invest millions of euros. The lion's share of that goes into generating the scientific data that the BPR requires, according to Verschaeve. The law's data requirements are much more rigorous than those under Reach. They include, for example, information on efficacy and the impact on non-target organisms.
In addition, member state authorities and Echa charge up to hundreds of thousands of euros to evaluate an approval application. And SMEs, without the in-house resources to handle it, are usually forced to hire a consultancy to submit their application because the process is too complex.
Available help
Echa, which has published a range of guides, training events and webinars aimed at SMEs in the biocides sector, says 'any legislation harmonising the EU market poses some challenges to the smaller companies' but the BPR has a 'clear intention' to help SMEs.
As such, the law has introduced some relatively quick and easy routes to market for biocidal products. The 'same' biocidal product concept, for instance, allows companies to get a quicker approval for products that are very similar to those already authorised. And some SMEs opt for registering a biocidal product 'family' – often sharing the costs in a consortium – which allows them to group similar products based on the same active substance in one authorisation.
Still, Verschaeve, who has tried both the product family concept and a consortium authorisation, says the process remains 'frustrating' and 'takes too much time'. His company has yet to reap the benefits of its efforts. None of Sopura's applications – the first one, for an active substance, submitted pre-BPR in 2012 – have been given the green light for market entry yet.
I think we are cutting off innovation and that is not a direction we want to move in
This type of time and cost is too unpredictable for most small companies to cope with, says Cecilia Ohlauson from biotech firm I-Tech. She predicts the biocidal substance market will be dominated by the giants of the chemicals world: 'The cost [for authorising a new substance] is so large, I'm not even sure many big companies will be willing to take on that type of investment,' she says. 'I would be surprised if we see any small companies in this space at all.'
Ohlauson has seen a new antifouling agent, medetomidine, through the process. Although the substance gained BPR approval in 2016, the European market remains closed to I-Tech, until the first biocidal product containing the substance gets approved as well.
The small Swedish manufacturer can handle this thanks to funding from its owners, and a strong market in Asia, Ohlauson says. But she says she 'would not recommend an SME to try to register a new biocidal active substance, unless they are prepared for substantial cost and approximately ten years to reach the market'.
Holding back innovation?
The European association of craft, small and medium-sized enterprises, UEAPME, has seen many other companies give up as soon as they realised this.
'Developing a new active substance is difficult at the best of times, but the BPR has increased the hurdle significantly,' says Marko Susnik, a UEAPME advisor on chemical policies. 'I think we are cutting off innovation and that is not a direction we want to move in.'
Already, industries are struggling with a shrinking toolbox of biocidal substances and products, as smaller producers are throwing in the towel. Both the cosmetics and paint industries, for instance, have warned that a lack of available preservatives for their products is becoming a serious problem, as many 'traditional' chemical preservatives are facing bans and restrictions under the BPR's strict rules.
But while the market needs new alternatives, the small, creative companies wanting to generate them cannot afford the BPR process, Susnik says. This is both affecting industries and encouraging bacterial resistance, he warns.
Meanwhile, the system is also hitting small biocides importers, who are dropping the EU market because the barrier to entry is too big, he adds. And many small producers who would make a living with biocidal niche products – for example insect repellent horse rugs – are beginning to understand that 'it's just not worth the effort', Susnik says: 'Is that the goal that we want to reach with the BPR? Losing useful biocidal products? Not to me.'
The European commission is due to assess the evolution of the biocidal market, and the BPR's impact on SMEs, by 2021.