Acquiring beleaguered firm will create India's biggest pharmaceutical company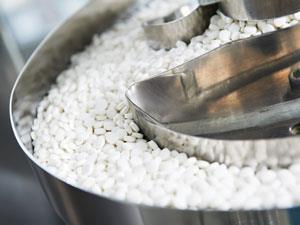 India's Sun Pharma will acquire its compatriot Ranbaxy in a $3.2 billion (£1.9 billion) all-share deal that will create the world's fourth largest generic drugs producer. This is the latest in a series of buyouts for Sun, which has grown to be the country's second biggest drug maker by turning around troubled rivals. Ranbaxy, currently India's fifth largest pharmaceutical company, has been hit by a US ban on imports of its products over procedural and quality control problems. Sun managing director Dilip Shanghvi highlights 16 previous successful acquisitions, but also underlines the scale of this deal, which will make his company India's largest pharma company. 'It is going to be an interesting validation of many of my basic principles,' he told analysts during a conference call.
The move will see Japan's Daiichi Sankyo, the current Ranbaxy majority owner, become the second largest shareholder in Sun Pharma. Daiichi will also indemnify Sun Pharma and Ranbaxy against costs and expenses arising from a subpoena from the US Attorney's Office for the District of New Jersey. Revealed on the same day as the buyout, it requests information about Ranbaxy's Toansa, India, plant, which the US Food and Drug Administration (FDA) blocked imports from in January. The Toansa restriction means imports from all four of Ranbaxy's FDA registered Indian plants are now prohibited, although sales of products made at a US site are still permitted.
Ranbaxy's troubles emerged shortly after Daiichi Sankyo bought its controlling stake for $4.5 billion in 2008, though allegations of problems had reached the FDA the previous year. Concerns over manufacturing practices and falsified data saw it ban imports from Ranbaxy's Dewas and Paonta Sahib sites, and then freeze its drug applications in 2009. Investigations showed substandard drugs had been sold, and the FDA therefore filed a permanent 'consent decree' injunction against Ranbaxy in 2012.
In May last year, Ranbaxy paid $500 million to settle charges of making false statements to the FDA and failing to meet good manufacturing practice (GMP) regulations. The FDA then extended the import prohibition to its Mohali plant in September, and Toansa in January, before the latest subpoena was issued. In their report on the Toansa site, FDA inspectors reported irregularities in gas chromatography tests and facilities in poor condition, with flies 'too numerous to count'.
Sun rises
Despite Ranbaxy's well-publicised issues, investors responded positively, with Sun Pharma shares closing up almost 3% on the day of the announcement. In fact, Ranbaxy's strife could mean that Sun got a bargain. In a research note HDFC Securities analyst Meeta Shetty points out that the price tag is only just over double Ranbaxy's annual revenues for 2013. By contrast Actavis' recent $25 billion buyout of Forest Labs valued the company at around eight times annual revenue. 'This points towards a huge potential to create value for the shareholders of both Sun, as well as Ranbaxy over the next 2–3 years,' Shetty wrote.
Sun expects that the cash earnings Ranbaxy brings in will exceed the deal cost in a single year. It also expects to gain $250 million in growth, buying power and supply chain synergies after three years. In manufacturing the priority is lifting the import bans. 'Our focus will be to address the issue of achieving compliance, so we are not looking at synergies of manufacturing,' Shanghvi stresses. However, it must try to do this amid an FDA crackdown on Indian generics manufacturing that has hit factories across the country, including Sun's own plant in Karkhadi.
Ajaz Hussain, a consultant who was formerly an executive both at the FDA and in the generic drug industry, calls the acquisition 'an excellent move by Sun'. 'It gains a large portfolio of FDA approved drug products that would need to be moved to Sun facilities short term to reach market in the US,' he explains. He adds that if 'the culture of quality at Sun is strong' it will help resolve Ranbaxy's problems. 'It appears to me that Daiichi was hesitant to take strong decisions – possibly due to fear of offending cultural sensitivities,' Hussain suggests. 'Daiichi may also not have got to the root cause of the issues – human factors. Furthermore, it appears to me that external consultants from the US may also have been hesitant to confront the human behaviour aspects.'
These are exactly the kind of problems Shanghvi wants to tackle. 'We run businesses today in many countries,' he emphasised. 'Even though people are culturally different some basic human traits that ultimately lead to performance are common. We have seen that everybody wants to be part of a successful team and that they're prepared to work hard for achieving that success if they're given proper direction, support and encouragement. I don't believe that in the case of Ranbaxy it will be any different.'