The incident was caused by unregulated and improper storage of ammonium nitrate, investigators find
The fire and explosion that destroyed the West Fertilizer chemical plant in Texas on 17 April, killing at least 14 people and injuring more than 200, has resulted in calls to tighten US chemical handling regulations.
Federal officials have determined that the blast was caused by ammonium nitrate, which represents about 2% of the total applied nitrogen fertiliser in the US. The compound is a strong oxidiser that reacts energetically with organic materials, and can detonate when heated strongly.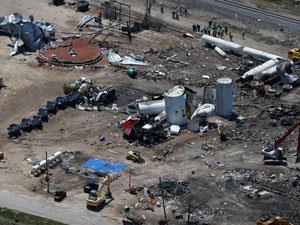 Specifically, the West explosion resulted from an intense fire in a wooden warehouse, which caused approximately 30 tons of ammonium nitrate to detonate, according to US Chemical Safety Board (CSB).
The CSB, which is an independent federal agency that investigates major chemical accidents and develops safety recommendations to prevent their recurrence, found that the ammonium nitrate was stored in combustible wooden bins, inside a warehouse that was also combustible and lacked fire-resistant partitions or a sprinkler system.
In addition, the building contained significant amounts of combustible seeds, which likely contributed to the fire's intensity, as well as large stores of potentially flammable anhydrous ammonia.
During a Senate Environment and Public Works (EPW) Committee hearing on 27 June, CSB Chairman Rafael Moure-Eraso stated that ammonium nitrate fertiliser storage 'falls under a patchwork of US safety standards and guidance'. He said the holes include a lack of federal, state or local rules restricting storage of large amounts of ammonium nitrate near homes schools and hospitals.
US lags behind
Other nations have gone much further than the US on ammonium nitrate safety. The UK recommends dedicated, noncombustible storage buildings and noncombustible bins, Moure-Eraso noted. In the US, even the most current National Fire Protection Association (NFPA) standard allows ammonium nitrate to be stored in wooden buildings and in wooden bins, and does not mandate automatic sprinkler systems unless more than 2500 tons is being stored. That threshold vastly exceeds the approximately 30 tons of ammonium nitrate that devastated West Fertilizer.
The US Environmental Protection Agency (EPA) and Occupational Safety and Health Administration (OSHA) resources for process safety are 'under duress', according to Moure-Eraso's testimony. He called for modernisation of regulations, as well as increased inspection and prevention activities.
Furthermore, he suggested that states could increase the number of dedicated process safety inspectors, and that companies could identify and commit to following the best safety standards from around the world, subject to approval and oversight by a 'competent, well-funded' regulator.
Action at all levels
The issue has caught the attention of at least one key lawmaker – California Democrat Senator Barbara Boxer, who chairs the EPW committee that has jurisdiction over environmental effects of toxic substances. She has called on the governors of all 50 US states to review applicable policies to ensure ammonium nitrate is stored safely.
At a 9 July press conference, Boxer also urged the EPA to mandate that ammonium nitrate be stored under safe conditions. 'It is inexcusable that the EPA has not updated its alerts since 1997 on this issue, given the information that we have,' she said. 'We know it has to be stored in a separate facility when it is present in such large quantities, and be protected from fire.'
Meanwhile, there appears to be significant activity at the state level. At a hearing of the Texas House of Representatives' Homeland Security and Public Safety Committee on 17 June, the director of the Texas Department of Public Safety, Steve McCraw, discussed plans to create a dangerous chemical facility register – patterned after the state's sex offender register. It would allow members of the public to retrieve a list of nearby chemical facilities, McGraw explained.
'Wouldn't you want to know if there is a chemical facility in your neighborhood with hazardous materials, ammonium nitrate or other types of chemicals,' McGraw asked. 'The answer is yes.'