Science advocacy groups are warning policymakers of the negative impacts of White House rules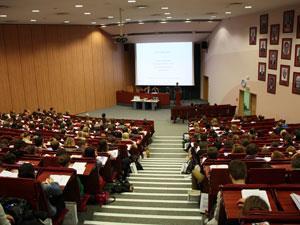 More than 120 organisations – including the American Chemical Society and the American Association for the Advancement of Science (AAAS) – have expressed 'deep concerns' about the Obama administration's regulations and policies affecting the travel of US government scientists and their attendance at conferences.
In a letter to policymakers on Capitol Hill, the organisations said the White House's current policies are reducing the participation of government scientists and engineers in scientific and technical meetings, and are increasing the administrative burden and cost of these activities. They pointed to recent findings from the congressional Government Accountability Office (GAO) that highlighted the 'stark reduction' in government employee participation in such meetings, and warned about the risks to America's scientific leadership.
The restrictions in question were ordered by the White House Office of Management and Budget (OMB) in 2012, in response to revelations that hundreds of employees at the US General Services Administration enjoyed a trip to a lavish training conference in Las Vegas at a cost of over $820,000 (£539,000) to taxpayers.
Specifically, OMB directed agencies to cut spending on travel expenses by at least 30% and maintain this reduced level of spending each year until 2016. The office also established new policies and practices for conference sponsorship, hosting, and attendance to ensure that federal funds are used appropriately on these activities. These added rules initiated new senior level reviews of all planned conferences, a new senior level approval process for all future conference expenses over $100,000, and a new requirement for agencies to publicly report on all conference expenses that exceed $100,000.
Scientists at agencies that support a significant amount of research, like the National Institutes of Health as well as the Departments of Energy and Defense, have been especially negatively impacted by these rules, says Joanne Carney, who directs government relations at AAAS.
Conference attendance plummets
For example, GAO found that conference attendance by personnel at the US Department of Defense's Army Research Laboratory decreased from approximately 1,300 in 2011 to about 100 in 2013. It also estimated that attendance at a key Materials Research Society conference by scientists at the Department of Energy's Sandia National Laboratories approximately halved from 2011 to 2013.
The letter's signatories pointed out that now government scientists and engineers must often wait many months to receive approval to travel to and participate in conferences, sometimes getting the go-ahead just days before the event begins.
'The bureaucratic delays prevent many government scientists and engineers from accepting key speaking roles and lead to increased travel costs associated with last-minute bookings,' the letter says. 'Further, the reductions in participation threaten the quality of research at federal labs, the stature of US science on the global stage, and agencies' abilities to recruit and retain the best and brightest researchers in their fields.'
ACS spokesperson Glenn Ruskin says that OMB's travel and conference requirements were so onerous that they created their own bureaucracies within agencies to ensure compliance. 'That comes with significant costs,' he says.
Indeed, it appears that the agencies did have had to expend extra money. The GAO cited estimates that the Naval Research Laboratory spent more than 9,000 hours on all conference oversight-related tasks, such as preparing and reviewing conference requests, from 1 October, 2013, to 31 March, 2014. The estimated cost of this time was about $824,000.
Rising costs
Similarly, GAO said the Department of Energy's Los Alamos National Laboratory reported in April 2014 that annual spending for staff costs related to conference oversight increased from $0.2 million in 2011 to $1.6 million in 2013.
'Here you are trying to save money, and all you are doing is actually adding bureaucracy and red tape,' says Carney.
The letter's authors also emphasised other detrimental aspects of these new policies. They argued that the formal and informal interactions that occur at scientific and technical conferences are crucial to the innovation process and help to maximize the return on taxpayer investment in scientific research.
Carney explains that conferences are an important place for scientists and engineers to learn from one another and interact with their peers from other countries. These events provide a platform for the next generation of scientists to interact with well-known scientists, and also help federal agencies locate scientists who they would want to bring into their labs, she tells Chemistry World.
The ACS holds two national meetings each year, which attract between 12,000 and 20,000 participants, and there are typically about 750 federal scientists in attendance, according to Ruskin. He says the ACS has seen a 'slight diminution' in these government attendees in recent years, but it is unclear whether this is due to OMB's new onerous processes, or just tight budgets.