Researchers fear chilling effect on academic freedom after president threatens to pull funding from Berkeley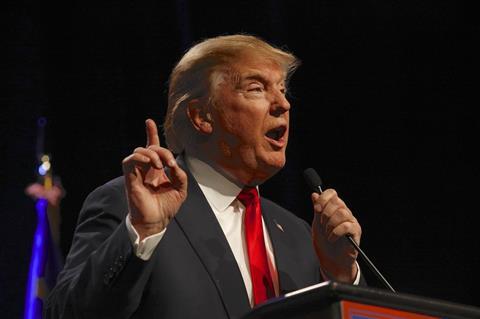 President Trump has threatened to take away federal funding from one of the US's top research universities, shocking researchers inside and outside of that institution. They say the warning to the University of California, Berkeley has a chilling effect on academic research and on the willingness of university scientists to pursue certain types of research.
The controversy ensued after a violent protest erupted at Berkeley on the evening of 1 February in response to a planned speech by a senior editor at the far-right Breitbart News. The speech was cancelled amid turmoil, and the following day Trump tweeted: 'If U.C. Berkeley does not allow free speech and practices violence on innocent people with a different point of view – NO FEDERAL FUNDS?'
To see a sitting president directly threaten an academic institution over issues of free speech is extraordinary and terrifying

Seth Cohen, University of California, San Diego
The university has pointed out that its administration had agreed to allow Yiannopoulos to speak after he was invited to do so by a legitimate student group, and it has condemned the violence that followed. Last academic year, Berkeley received about $370 million (£295 million) in government research funding, which represented slightly more than half of its total research awards. Despite this funding the institution has had financial problems and considered dismantling its 144-year-old College of Chemistry last year to cut costs.
'I am saddened but not surprised by the president's tweet,' says Ronald Cohen, an atmospheric chemist who directs the university's atmospheric science centre. 'The president has made clear that he is not interested in facts and the reasoned arguments based on facts that are the hallmark of modern academic life,' he adds. Cohen and others express hope that Trump will recognise that federal funding for Berkeley and other US universities are a key part of what 'makes America great.'
Trump's attack on UC Berkeley comes as many in the research community already feel targeted by, and distrustful of, the new administration.
Fear of retaliation
'In my research in the area of air pollution and climate, I already feel particularly attacked by this president,' Cohen tells Chemistry World. 'I am more vulnerable to the president's attacks on the idea of climate science than to his attacks on UC Berkeley.'
'It is a chilling threat, one that he probably doesn't have the power to implement but it might make it harder for individuals to speak out for fear of retaliation,' says Kristie Boering, a chemistry professor at Berkeley.
Neal Lane, a physicist who served as science adviser to former president Bill Clinton and previously as director of the US National Science Foundation (NSF), agrees that Trump will have difficulty following through on his threat. He suggests that Congress would likely stand their ground. 'I don't believe that the president has the power to do anything like that, but it scares people and sends out a signal that universities are not important and have no autonomy,' Lane says.
A major concern of academic researchers is that the president's tweet is meant to silence them. They worry that the administration could order an audit of the research grants awarded to Berkeley or to specific researchers there, in retribution for speaking out or for pursuing research avenues that the new administration opposes.
The anxiety extends beyond Berkeley. 'To see a sitting president directly threaten an academic institution over issues of free speech is extraordinary and terrifying,' says Seth Cohen, a professor of chemistry and biochemistry at the University of California, San Diego. 'It is certainly scary because it is a very unpredictable climate right now.'
Echoing Lane, Cohen expresses confidence that Congress and research funding agencies like the NSF and the National Institutes of Health would 'become significant blockades to exacting any sort of retaliatory executive order against specific organisations or universities based on the president's sentiment or whim'.
Several California lawmakers – including at least one Republican – have criticised Trump for threatening Berkeley. 'President Donald Trump cannot bully our university into silence,' said California Democrat Representative Barbara Lee in a statement. She called the president's tweet 'an abuse of power', and vowed to 'continue to stand up to' Trump and protect the university as a senior member of the House of Representatives education funding subcommittee.

Rebecca became the US Correspondent for Chemistry World in September 2014, based out of Washington, DC, after writing for the magazine on a freelance basis since 2007.
View full profile