Donald Trump's suspended order would endanger America's biotech industry if re-instated
Major players in the US biotechnology industry are joining the academic research community and science advocates in opposing President Trump's executive order from late January that temporarily barred entry or return of individuals from seven Muslim-majority countries.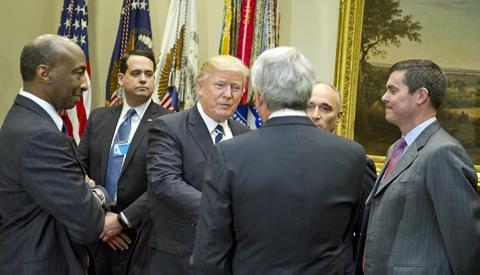 On 9 February, a federal appeals court unanimously ruled that the executive order will remained blocked. The president indicated on Twitter that he will appeal the decision. This means it could eventually reach the Supreme Court. As this process is underway, Trump's order has created fear and confusion because it is unclear whether it will even be expanded if successfully reinstated. Now, biotechnology executives are speaking out about its harmful impact on their industry.
Ron Cohen, the chief executive of Acorda Therapeutics in New York who also chairs the executive committee of the US Biotechnology Innovation Organization (BIO), is one of the organisers of a letter expressing serious reservations about Trump's immigration order that was signed by 166 American biotech leaders and published in Nature Biotechnology. The number of new signatories to the letter has grown significantly since it was published, says one of its other organisers, Jeremy Levin, the South African-born head of Ovid Therapeutics in New York.
'Trump's directive said, in effect, that America appears to be shutting its door,' says Levin, who was refugee twice – first when his family was expelled from South Africa under apartheid and then when they fled Rhodesia, where his father faced imprisonment for being a journalist. 'That appearance may or may not be factual, but what matters is the blowback, and the anxiety and confusion that it causes, the fear that it engenders,' Levin tells Chemistry World.
He says the most talented scientists and students in the world will now rethink coming to the US, or even staying in the US. This is a problem, Levin points out, because more than 50% of the biotech industry workforce in the US comes from abroad.
'The success of this industry has been built in a large part by the fact that we have taken the cream of the crop from around the world,' Levin states. 'If we are going to stop that … we are going to be shooting ourselves in the foot, from a business and also academic point of view, in a way that really unravels everything this life sciences industry was built on.'
The small, innovative biotech companies whose leaders are publicly opposing Trump's immigration order are the overwhelming producers of innovative medicines in US. They are responsible for developing more than 60% of all the drugs in the pharmaceutical pipeline today, according to Levin.
The BIO has not taken an official position on the executive order in question, but the trade group says it is gathering data from its membership on its 'real-world impact' on their businesses or institutions.

Rebecca became the US Correspondent for Chemistry World in September 2014, based out of Washington, DC, after writing for the magazine on a freelance basis since 2007.
View full profile