Report shows UK continues to punch above its weight in science but funding remains a worry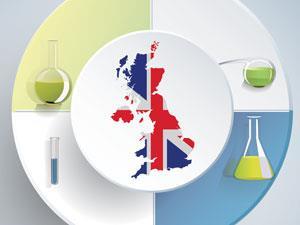 The UK has overtaken the US and now ranks first in one indicator of research quality, according to a new report commissioned by the UK's Department of Business, Innovation and Skills. While the country punches above its weight as a research nation, it cannot rest on its laurels in future as emerging nations, such as China, step up the quality and quantity of their research, the report warns.
Written by publisher Elsevier, the report assesses the performance of the UK's research base compared with a number of countries, including China, France, India, Germany, Japan and the US. While the UK represents just 0.9% of the global population, 3.2% of R&D expenditure and 4.1% of researchers, the report found that it accounts for 9.5% of research downloads, 11.6% of citations and 15.9% of the world's most highly-cited articles.
The UK is highly productive in terms of articles and citation outputs, partly driven by the increasing international collaboration, which is also associated with greater citation impact. International collaboration and researcher mobility are key to the UK's leading position, the report concludes.
Overall, the research base shows an 'underlying well-roundedness' and has a high impact across most disciplines. In terms of one indicator of research quality, the 'field-weighted citation impact' indicator, the UK now ranks above the US. Citation counts may inaccurately reflect relative research prowess so this indicator means citation counts are adjusted for differences between countries in their strength of focus on different fields of research.
Another key finding is that the UK is successful at commercialising intellectual property derived from academic research when compared with other countries. A 'high and rising proportion' of UK journal articles are cited in patents globally, 'pointing to both the quality and usefulness of UK research'.
However, the report warns that emerging nations, particularly China, are eroding the traditional powerhouses of research, such as the UK, through their sheer volume of research. In the future, research quality from these countries looks set to improve too.
Global research has become increasingly complex in recent years, characterised by the opposing forces of collaboration and competition, the report notes. 'While the UK is well positioned to remain a research leader in the future, continued investment in the research base is essential to this aim.'
A spokesperson for the Russell Group of research intensive universities supports this, pointing out that public investment in UK higher education still lags far behind the US, China and many other western European countries. 'Our universities' track record in attracting international staff and students has made an extremely important contribution to the intellectual and financial success of the UK,' he says.
The UK is famous for doing more with less in the global science arena, says Jenny Rohn of the campaign group Science is Vital. 'There is a theoretical limit to how much our scientists can do on a shoestring, and I fear we are sailing very close to that limit right now.'