The government will use licenses to track the sale of hazardous substances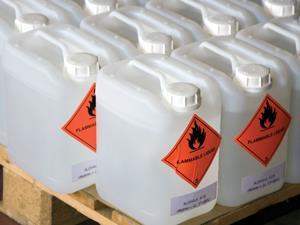 The UK government plans to bring in new laws that will tighten regulations around selling chemicals classed as 'poisons' or 'explosives precursors' to the general public.
Under the new changes, any individual who wants to buy any of the restricted chemicals – which include seven chemical precursors to explosives, and various poisonous substances – will need to apply for a licence first, to prevent harmful substances falling into the wrong hands.
'Requiring an individual home user to apply for a licence offers greater protection as we can perform checks into their suitability and verify their need for the poison,' says Ian Gibson from the Office for Security and Counter-Terrorism within the UK Home Office. 'The new provision puts in place a mechanism to alert authorities to terrorist and criminal activity … and aims to prevent poisons and explosives precursors being used to cause harm or in terrorist attacks.'
Striking a balance
At the moment these chemicals are available to anyone who wishes to purchase them, and it is the retailers who sell them that must be licensed. Some safeguards are already in place – retailers have an obligation to report suspicious activity, such as large orders, to the authorities – and this will stay the same.
But the European Union (EU) is about to introduce new regulations on explosives precursors – including concentrated hydrogen peroxide, nitromethane and nitric acid – for which they have recommended an overall ban on selling to the public.
The Home Office carried out a consultation to decide how the EU recommendation should be adapted for UK law, while at the same time updating the Poisons Act which deals with poisonous chemicals including arsenic, mercury and cyanides. Licensing was chosen as a way to address safety and security concerns while allowing the legitimate use of some of these chemicals. Home users may, for instance, want to use poisons to kill weeds and pests, or use explosives precursors such as hydrogen peroxide to sterilise swimming pools.
'The policy is designed to strike the right balance between protecting the public and allowing individuals their freedom to go about their daily lives as they choose,' says Gibson.
The new rules will not affect chemists working at universities, research institutions or businesses, as the chemicals they use are purchased through their employer. But 'hobby' chemists who want to carry out their research using any of the listed substances will have to obtain a licence.
At the same time, the regulations around some other substances are being relaxed – retailers will no longer need a licence to sell less harmful 'Part 2' poisons (such as ammonia, hydrochloric acid and formaldehyde), and neither will customers. The Home Office is currently considering whether to re-evaluate the lists of dangerous substances themselves.
Challenges ahead
The changes to UK law will be introduced in early September when the EU regulations come into force. The licensing system will work in a similar way to the one that governs the sale of firearms. The licences themselves will cost around £40 and consumers will be able to apply for one online.
'The applicant will be asked for certain personal details and will be asked to disclose criminal records and give permission for the Home Office to contact their GP if necessary,' says Gibson. 'The information will then be used to assess the suitability of the individual and the legitimacy of the intended use.'
Retailers – including those who operate online – will have to check the licence number before they can sell chemicals to an individual. In addition, they will have to monitor transactions of another eight explosives precursors including acetone, sulfuric acid and potassium nitrate, and continue to report suspicious activity. Failure to check licences or report suspicious transactions or theft of any of the restricted chemicals will be a criminal offence.
Peter Newport, CEO of the Chemical Business Association, says these changes may pose challenges to retailers, who will have to get to grips with identifying and labelling the chemicals covered by the new regulations. 'They will make life more complex for the retailers, who are finding it yet another area that is regulated,' he says. He adds that enforcing the rules for internet sales of chemicals may also be challenging. 'There are people thinking that they can sell this stuff who are below the radar because they are dealing in smaller quantities, who seem to think they are exempt from the law which clearly they are not.'
The Home Office have stressed that online retailers, including those who operate through websites such as eBay and Amazon, and those based abroad, will be covered by the same restrictions, and subject to police test checks. People who are concerned about substances they see available online are advised to contact the Health and Safety Executive.