One year after ammonium nitrate explosion in Texas, Chemical Safety Board calls for new regulations to avert another incident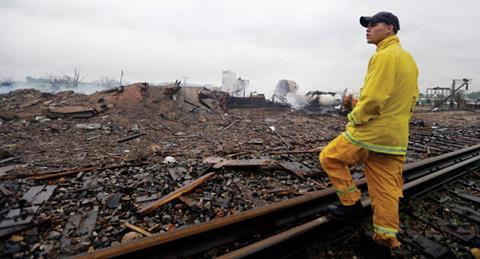 The fire and explosion that destroyed the West Fertilizer chemical plant in Texas last April, killing 15 people and injuring more than 200, was entirely preventable and highlights a pressing need for regulatory change, the US Chemical Safety Board (CSB) has concluded.
The CSB reported in July that the West explosion resulted from a fire in a wooden warehouse, which caused approximately 27 tonnes of ammonium nitrate to detonate. And now, in preliminary findings released on 22 April, the board says the tragedy was caused by shortcomings in US regulations and standards.
'Our findings so far show that there is a patchwork of federal and state regulations with huge gaps that allowed this accident to happen,' said CSB's supervisory investigator, Johnnie Banks. 'At the federal level, there is no regulation preventing businesses from storing ammonium nitrate in combustible wooden bins and wood buildings without sprinkler systems.'
Warnings ignored
Back in 2002, the CSB recommended that reactive chemicals like ammonium nitrate be included in the Environmental Protection Agency's (EPA) risk management programme, as well as in the Occupational Safety and Health Administration's (OSHA) process safety management regulations.
'Had regulators acted on our recommendations sooner, there would have been additional requirements for safer handling and storage and the accident might have been prevented,' said Rafael Moure-Eraso, CSB chairman.
It is clear that this was a very preventable accident
The board found that more than 1350 facilities across the country store ammonium nitrate, and it identified failures to ensure the public was protected from such depots. 'Farm communities are just starting to collect data on how close homes or schools are to [ammonium nitrate] storage, but there can be little doubt that West is not alone and that other communities should act to determine what hazards might exist,' Banks warned.
Moure-Eraso said regulations need to be updated and new ones put in place. He estimated that hazards like those seen at West exist in hundreds of locations throughout the US, and said the nation cannot depend on voluntary compliance alone.
The board says the EPA has the authority to require companies handling such hazardous materials to employ what is called 'inherently safer technology' in their operations. 'Even small companies like West can apply the principles of inherently safer design,' stated Moure-Eraso.
Such measures could, according to the CSB, include storing less of the material at any one time, using safer chemical blends or formulations to make them less explosive and storing the chemical in dedicated, fireproof concrete structures instead of combustible wooden bins.
Change opposed
US standards for ammonium nitrate safety have remained unchanged for decades and other countries have tightened rules. For example, the UK's Health and Safety Executive has specified since 1996 that ammonium nitrate be stored in a single story, dedicated, well-ventilated building built from nonflammable materials such as concrete, brick or steel.
Meanwhile, in the US there's some industry opposition to change. 'They are asking for a lot of regulation that we don't think is necessary,' states US Agricultural Retailers Association spokesman Brian Reuwee. The trade association disagrees with the CSB on the need to mandate alternatives to ammonium nitrate fertiliser, he tells Chemistry World.
Nevertheless, both sides appear to agree that better oversight is needed. 'Clearly there were gaps in the facility practices, both in terms of federal regulatory compliance, as well as adherence to industry best practices,' says Kathy Mathers of the Fertilizer Institute. 'It is clear that this was a very preventable accident.'
But observers such as the American Federation of Labor and Congress of Industrial Organizations (AFL-CIO) – the umbrella federation for US unions – suggest that regulatory change could well be slow. Peg Seminario, the AFL-CIO's director of safety and health, says it will take a great deal of political will to change US regulations in this area. 'This isn't going to happen without a fight – it will take communities, workers and others to push,' she says. 'The chemical industry has made it clear that they will oppose any further regulations.'