Adapting to destruction that will take generations to fix
Viktoriia Moskvina is a senior research fellow at Taras Shevchenko Kyiv National University. She left Kyiv shortly after the full-scale Russian invasion to work remotely in Lviv but has since returned.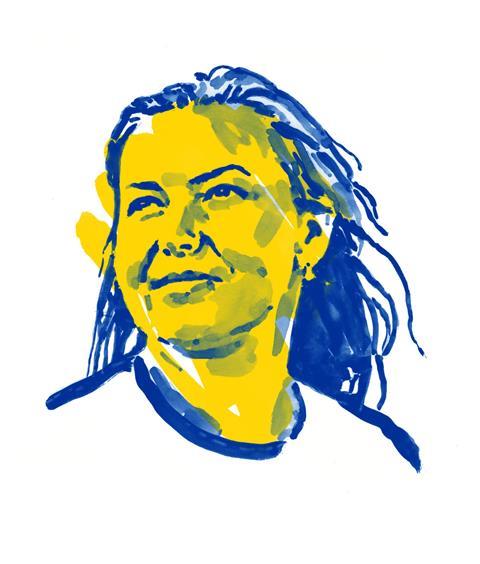 The situation hasn't changed significantly since last year, though there are more preventive measures now, such as boarded-up windows and equipment wrapped in sandbags. What changed is that everyone has gotten used to it. We have learned not to build long-term plans. Our plans are for a few hours or a day at most because we don't know what will happen in an hour or two.
To help us through the blackouts, we've acquired generators that can be connected to appliances and torches for lighting. People have purchased portable gas cookers. By nature, humans adapt quite quickly to new conditions, but these are not the conditions we want to get used to.
At Taras Shevchenko Kyiv National University, there were no interruptions to electricity and internet supply, except for a few days when there were missile attacks on 31 December and 10 October last year. Everyone is there because you can work properly, without any additional appliances, and drink tea and coffee.
Research work continues, albeit at a slower pace and with reduced productivity. Stressful situations are not uncommon – such as when you arrive to work at 8:30 am, planning to set up an experiment, only to have the air raid siren start, forcing the experiment to be rescheduled for another day. There are challenges with the deliveries of reagents and solvents, but the determination to work is inspiring.
We even manage to host science conferences. This year, the conference held by the Young Scientists Council at our university was free for participants. However, we encouraged attendees to donate, if possible, to help rebuild the university, and were able to collect a substantial amount.
The funding offers we have received are very appreciated, yet they just do not cover everyone who needs help. In particular, chemists face a problem: they can apply for a grant for their project, but how can they complete it without the necessary materials and reagents? A hybrid funding model that allows them to work in Ukraine while also having an opportunity to go elsewhere as a backup plan, in case something gets in the way of completing the project, would make a massive difference.
Many people hold onto the hope that there will be victory, and that everything will be okay. This vision should not be lost. Even small steps towards helping can make a significant difference and provide people with a sense of hope. After achieving victory, there will undoubtedly be other needs. However, right now, the primary need is victory.
Rebuilding is a challenging question; it is unclear when Russian attacks may occur again, so some rebuilding efforts may be futile. The main goal should be to maintain what we have. We must acknowledge that the destruction caused by the attacks will need to be fixed not only by our children but also by our grandchildren and great-grandchildren.
Recently, we held a competition for young chemists. Despite the loud explosions in Dnipro, the children in the bomb shelter defended their work and solved chemistry tests. This is incredible to witness, and it reminds us that these children represent the future of Ukraine.
My hometown, Bakhmut, where I was born and spent 17 years, is destroyed. However, I am grateful that it remains Ukrainian. Unfortunately, there are many towns across Ukraine in similar situations.
This article is based on an interview performed by Anastasia Klimash
Ukraine's chemists persevere through a year of war
1

2

3

Currently reading

Chemists in Ukraine revisited: Viktoriia Moskvina

4

5

6

7

8