Practical difficulties hinder experiments, but a new course looks to address future environmental challenges
Serhii Radio is the head of the department for research at Vasyl' Stus Donetsk National University, which relocated to Vinnytsia in 2014 due to the war in Donbas. Some work at the university continued after the full-scale invasion, with remote teaching and no lab work; all work has now resumed, but is restricted by blackouts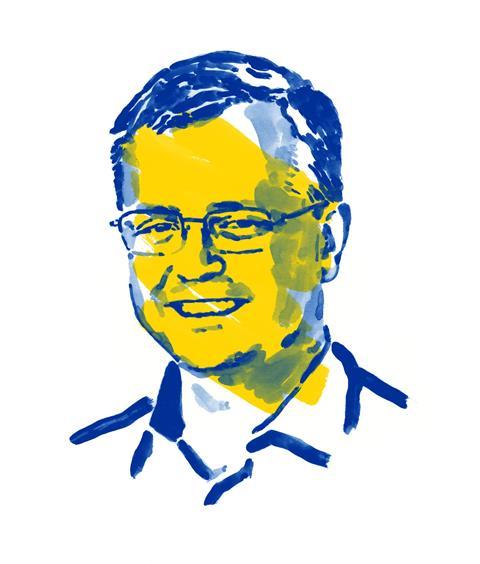 People forget that the Russian invasion basically started in 2014. What's happening today is a full-scale version of what was localised back then. After the university transferred to Vinnytsia, almost up until 2022, it felt like 2014 was just yesterday. And now it feels the same; the year has passed, but it still feels like the beginning of 2022, as if this full-scale invasion started yesterday. Psychologists can probably explain this feeling; it's a complex one.
Scientific experiments are very restricted by blackouts. The schedules are such that we often have electricity for two hours with four-hour breaks in between, which is not very convenient. For instance, the schedule was pretty inconvenient at some point; the electricity was on between 12.00 and 14.00, and there was none between 08.00 and 12.00 or 14.00 and 18.00. Without a PC, internet and equipment, there's not much you can do.
If one needs to carry out the calcination of some samples, then you can't count on the procedure being completed before the blackout resumes. Or suppose you want to set up a hydrothermal synthesis, you need to regulate the temperature so you can't finish everything in two hours and have to postpone the experiment. Even for the simpler syntheses, when you just need some basic stirring, sometimes two hours is not enough and the process needs to be optimised. That's why we had to adjust many of our projects and focus more on theoretical work, some modelling, something less energy-intensive.
Experiments can go forward if you can be sure electricity is not required. But the reagents are not cheap – we work with lanthanides and certain amino acids, trying to prepare organic-inorganic hybrids with polyoxometalates. You don't want to take risks and later end up having to put your materials into waste. Considering there are difficulties with reagent deliveries, and with funding as well, in most cases it's just not worth setting the experiments up. Given the current exchange rate to Euro, we cannot afford some of the reagents or equipment we were counting on buying.
The war also affects teaching. For instance, sometimes there were air raid sirens, and we in bomb shelters instead of work for most of the first half of the day. But despite the ongoing war, the faculty has launched a new course for the 2022–23 academic year, which is unique for Ukraine, Environmental and chemical safety. We made this step with the future in mind, because this is an essential topic for our country.
We've noticed there are fewer in-person conferences; the majority are online. Ukrainian scientists are still eager to participate and communicate. That's important; it helps us to focus on science and not on daily stressful war-related news and allows us to continue collaborations. Otherwise, professional skills will deteriorate.
Two of our students were at Paul Sabatier University in Toulouse, France, via the Erasmus programme last year. They defended their theses both there and here with excellent marks. That is nice to hear on the one hand, but it's also sad that we lost those students as they will stay in France to do their PhD. Let's hope that after they successfully finish their PhD studies they will keep in touch and maybe even return to help us rebuild.
This article is based on an interview performed by Anastasia Klimash
Ukraine's chemists persevere through a year of war
1

2

Currently reading

Chemists in Ukraine revisited: Serhii Radio

3

4

5

6

7

8