Manoj Mehrotra discusses the rapid rise of outsourcing strategies in research, development and manufacturing
Manoj Mehrotra discusses the rapid rise of outsourcing strategies in research, development and manufacturing
In the pharmaceutical and biotech sector, quality navigation is becoming an essential process for identifying the best route to take in order to guide business effectively in a dramatically changing environment. Some people may say that the seas are getting rougher, that the winds are blowing harder and that land is difficult to find, but is this really the case?
Within the pharma and biotech sector, one of the biggest changes in recent years has been the growth in the number of outsourced projects. This has increased dramatically over the past 10 years and is set to increase substantially going forward. The global outsourcing market is growing at 14% annually with development services growing the fastest. In order to best describe the current landscape, however, we need to first take a closer look at the health of the industry itself.
The health of pharma
There are many factors that have led to an increase in outsourcing, but the biggest by far is the patent cliff: a $78 billion (?61 billion) erosion in worldwide sales with brands going off patent from 2010-2014. With the small molecule drug pipeline drying up considerably, big pharma has had to look into ways of reducing the cost of goods and rapidly increasing efficiencies. When these companies were able to rely on products that brought in huge profits, these aspects of their business were important but not critical. We are now seeing this move from important to critical and this sets the scene for where we stand today.
So, if the small molecule pipeline is drying up and the large molecule pipeline is not quite ready for full market penetration then how will the void be filled? One answer is a low risk approach such as drug re-positioning or re-profiling, combination therapies of existing drugs, and new target indications for existing molecules. There is also an increase in enhancing the delivery of drugs to the body through advances in technology and formulations.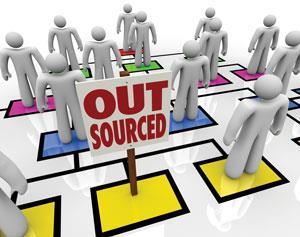 The other answer is by reducing overheads and costs associated with discovery, development and manufacture. This can be achieved in three ways: firstly by implementing technology to aid process improvements; secondly by manufacturing in low cost geographies; and thirdly by outsourcing these activities to third party companies. It is fast becoming the norm not only for the larger players but also the smaller companies to operate as 'virtual' businesses and we are now seeing a virtual pharma environment taking precedent, with an emphasis on marketing.
Crowded market
There has certainly been an insurgence and rapid growth of contract research and manufacturing businesses over the last few years, particularly in India and China, and as a result there has been a huge increase in competition.
India operates well in this market due to a strong history of making generic drug products for the US and European markets. It also has a large pool of synthetic chemists and pharmacists, and a low cost base with ample manpower. As a result, India has grown at a rate 4-5 times faster than the global outsourcing market. However, it still only represents some 5-6% of the total market, and China is rapidly growing in capability too with capacities in some product areas 4-5 times higher than that of India.
Pharmerging markets
An advantage to the pharma industry is that due to such a competitive market, it can now be more selective than ever in choosing the appropriate partner, which means that in order to operate successfully as a contract research provider, you need to differentiate yourself.
There are many ways to do this, but the key message is that now it is no longer an option to just offer a low cost position or a quick speed of turnaround, there is a major need to deliver value as opposed to cost benefits. This can be realised through unique technology offerings, expertise and guidance on projects and a consultative approach together with a closer relationship. It will only be the service providers that can offer all of this that will be built to last.
In the last few years we have seen big pharma increasingly doing business in the emerging markets such as Russia, eastern Europe and Latin America (the 'pharmerging markets' as some analysts are referring to them). As this segment expands, the outsourcing business in India and China will also continue to grow and demand for a low cost base will be critical. As a result, there will be an increasing demand for products at all points of the pharmaceutical pipeline and contract organisations will need smart strategies to succeed in these new markets.
Manoj Mehrotra is vice president and head of Dr Reddy's CPS