Love it or hate it (who could!) most of us are obsessed with it: we talk about it, we cook it, we like to enjoy it with friends.
Love it or hate it (who could!) most of us are obsessed with it: we talk about it, we cook it, we like to enjoy it with friends. Food in all its varieties is such a part of our lives that we have decided to dedicate the October issue to it. To create this feast we have blended many interesting and flavoursome ingredients into a wonderful menu - and here is just a taster.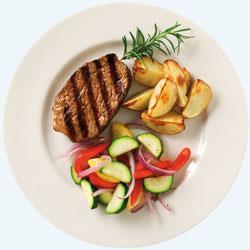 For starter we'd like to whet your appetite with interviews with two world-famous figures in the world of gastronomy: legendary Spanish chef Ferran Adri?, and the French scientist who founded molecular gastronomy, Herv? This.
Adri?, arguably the best chef in the world, is obsessed with food. His passion for cooking is almost overwhelming, so it was intriguing to learn that his career happened almost by chance when he started work washing dishes at a local restaurant.
Food chemist Herv? This, a founding father of molecular gastronomy, likes to 'experiment' with food. At the beginning of the year, This teamed up with one of France's greatest chefs, three-star Michelin winner Pierre Gagnaire, to prepare the world's first entirely synthetic gourmet dish.
Both talk about their views concerning molecular gastronomy and molecular cooking, an area that has been the matter of much debate in recent times. Call it what you will, you can sample these genius's personalities in the interviews.
For main course our specials this month are:
On the rise, a feature on the chemistry of bread, and how scientists have tinkered to improve the process.

Boxing clever, a feature about the materials our food comes wrapped in. This is an area that has moved very rapidly in recent times and uses increasingly sophisticated materials - from spoilage sensors to antibacterial wrappers are being developed to extend shelf-life.

If you are into something a bit more exotic, try The spice of life, a feature which looks into the claims regarding the medicinal and health benefits of many spices, from garlic to turmeric.

We'd also like to recommend The food detectives, a fascinating dish on the goings on of a food forensic laboratory.

And last, but not least, In a fix focuses on the chemistry of the nitrogen cycle, and on why we should thank Haber and Bosch for our ability to feed humanity, but need to take action to avoid too much of a good thing.
On a related note, Ian Crute, chief scientist of the UK Agriculture and Horticulture Development Board, argues in a comment article that it's time to urgently up our investment into agricultural science if we are to continue feeding the world's population.
Finally, for desert, help yourself to a book review. Like most things in this issue, they are also about food!
So please go ahead and devour the issue - and, as always, enjoy the delights of some good chemistry.
Bon app?tit!
Bibiana Campos-Seijo, editor