Ben Valsler
The penultimate stop on our voyage along the periodic table lands us in the volunteer state. Here's our tour guide, Kit Chapman.
Kit Chapman
Tennessee has a long history of ties to the elements. It was home to the first permanent nuclear reactor, used to create the top secret plutonium for the first atomic bombs. In 1945, scientists at Oak Ridge, the secret city home to the reactor, discovered promethium, filling the last gap in the periodic table. For the next 60 years, the laboratory would be at the forefront of the Department of Energy's nuclear research programme. In 1966, this meant the building of a nuclear reactor designed to create high neutron flux – a key part in creating the elements beyond plutonium through beta decay, turning neutrons into protons and slowly shifting up the periodic table. By 2005, Oak Ridge was one of only two facilities in the world capable of producing large quantities of elements such as berkelium. And that meant it was in demand.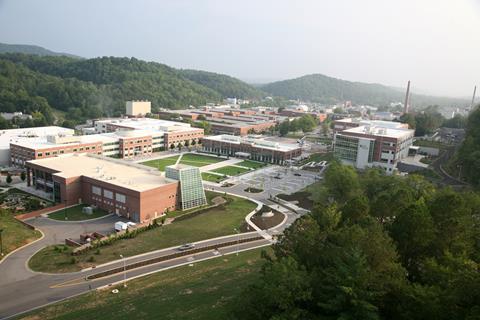 James Roberto
In 2005, Professor Oganessian contacted Oak Ridge National Laboratory through a mutual colleague to look into the possibility of a collaboration for 117, which would of course involve a berkelium target which was only available at Oak Ridge, or can only be produced at Oak Ridge. At the time, we in Oak Ridge were not making californium. Berkelium is a by-product of californium production. So we were unable to accommodate the request at that time because we weren't in an operational mode where we were producing berkelium…'
Kit Chapman
That's James Roberto, at the time an associate director at Oak Ridge. The man who had contacted the facility was Yuri Oganessian, the lead element creator at the Joint Institute for Nuclear Research in Dubna, Russia. Since 1990, Oganessian's team has been working with Lawrence Livermore National Laboratory to discover new elements. Even in 2005, it was the longest element search collaboration in history.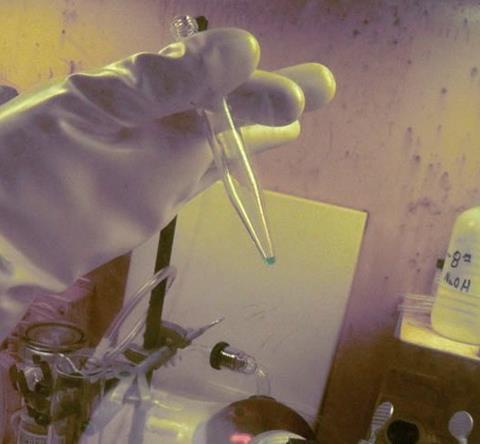 James Roberto
2008 is when we restarted californium production. So what that meant is that then it was reasonable to consider this collaboration because we had a path to actually deliver the berkelium.'
Kit Chapman
Roberto and Oganessian met at a symposium at Vanderbilt University, also in Tennessee, where their mutual associate Joseph Hamilton was celebrating his 50th year working at the university. The trio came together and decided to collaborate. Soon, Vanderbilt – and the University of Tennessee at Knoxville, near Oak Ridge – were part of the team. The plan was for Oak Ridge to make berkelium as a target, and for Oganessian's team to bombard it with calcium ions to make the new element.
There's one problem: berkelium means you are on the clock. In December 2008, production at Oak Ridge's reactor resulted in 22 miligrams of berkelium, with a half-life of 330 days. This was then cooled for 90 days, purified and separated for 90 days, then shipped to Russia. Unfortunately, the crossing didn't go smoothly, as Oak Ridge's Julie Ezold explains:
Julie Ezold
In this particular case, since it was going to Moscow, it went to JFK airport, New York City. It's Delta Flight DL1, we all know the story, and it flies over to Moscow. And they had spent months trying to get the documentation prepared for this. The documentation didn't make it on the airplane, so it came back. We fixed that, and it goes back over again, and every time you go on a passenger flight the pilot has right of refusal for any hazardous material. They have the manifest, they know what's on their flight, they can refuse. But luckily, these pilots have been very kind. It went back over and something in customs wasn't right. Again, it comes back. So we were very concerned, fighting a 310 day half life, of how many trips this took across the ocean.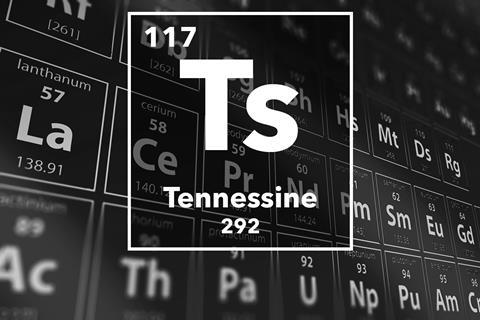 Kit Chapman
Finally, on the fifth trip over, the berkelium made it to Dubna. Overall, the target material racked up more than 25,000 miles of air travel before it arrived – with each moment causing the radioactive decay to eat into a target sample worth hundreds of thousands of pounds. Nobody knew if there was enough left to discover the element.
Fortunately it was. In January 2010, the first announcement was made. In December 2015, the element was confirmed, and its name selected. Tennessee had laid the ground work for the atomic age. It had helped launch the age of making elements. And now, with tennessine, it would be on the periodic table forever.
Ben Valsler
So it seems the berkelium target that allowed us to discover tennessine has racked up more air miles than most of us ever will. That was Kit Chapman with the tale of tennessine. Now please take your seats for the final leg as a periodic table passenger, as next time we'll come to the end of the line.
Yuri Oganessian
My own interest is heavy and superheavy element research, and I've been doing that practically all my life!
Ben Valsler
We meet Yuri Oganessian, and discover the story behind the element that takes his name, oganesson. Until then, drop me a line with any comments or questions – as usual you can email chemistryworld@rsc.org or tweet @chemistryworld. Thanks for joining me, I'm Ben Valsler.