Behind the scenes at the Olympics and Paralympics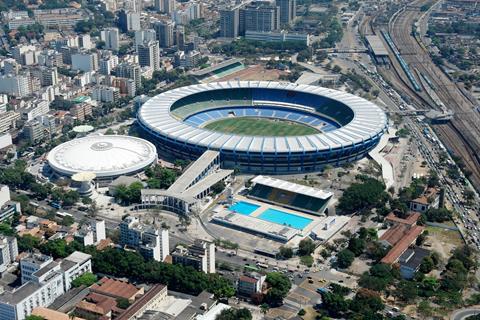 Chemists will be among the thousands of people working to create this summer's Olympic and Paralympic games in Rio de Janeiro, Brazil. The games even have their own official chemistry company – Dow Chemical. The multinational, based in Michigan, US, has been an official sponsor and carbon partner since 2010. 'Chemistry and science play a huge role in helping to enable athletes to get the very best, so it's a natural fit for us,' explains Louis Vega, Dow's global vice-president of Olympic and sports solutions. 'By our voice being at the table, we are reminding people daily of the importance of chemistry.'
Pitch perfect
As Olympic carbon partner, Dow has pledged to mitigate 500,000 tons of carbon dioxide equivalents (CO2 eq) directly from the games through third party-verified emissions reductions, and also to generate an additional 1.5 million tons of CO2 eq in climate benefits to address other games-related emissions.
Dow's six-year relationship with Olympics hasn't been without criticism. During the run-up to the 2012 London Olympics, Greenpeace and others campaigned against the sponsorship, citing Dow's failure to take responsibility for the 1984 Union Carbide chemical disaster in Bhopal, India which killed thousands. Dow took ownership of the company in 2001 without assuming its liabilities but campaigners are pushing for Dow to compensate victims.
Yet when it comes to sustainability Dow has been praised for its ambitions to 'change the role of business in society'. In 2015 Dow launched its third set of ambitious targets since 1995, which set out to deliver $1 billion (£690m) in cost savings and new cash flow for the company, as well as improve the lives of 1 billion people by addressing the environmental impact of the company's products. 'We are doing all that we can to help ensure that we leave a better planet for the next generation,' explains Vega. 'We've worked to ensure that we bring all the company has to bear to the Olympic movement.'
Dow has been doing this as a key contributor to Abraça (embraces), the games' comprehensive sustainability programme. 'We are confident that Rio 2016, with support from Dow as its carbon partner, will achieve its carbon mitigation and sustainability goals' says Marie-Sallois Dembreville, Rio 2016 director of corporate development, brand and sustainability. Dow has implemented five strategic projects in the areas of agriculture, infrastructure and industry, often in partnership with others. These include helping farmers in Mato Grosso state to reduce fertiliser usage and adopting biomass-generated energy at two of Dow's Brazil sites.
[[Dow will mitigate 500,000 tons of CO2 eq during the games]] Dow is also providing education on the importance of sustainable practices through the Transforma (transform) education programme, which reaches over 5 million students in Brazil. As the Stem educastion partner of Transforma, the company is adding chemistry, physics, biology, environment and climate change classes to the program in cities all around Brazil.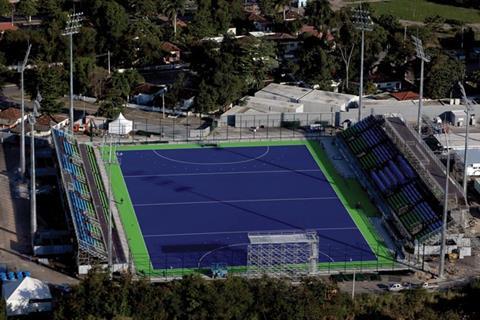 But Dow's relationship with the Olympics goes beyond this to the sports and sporting venues themselves. 'Chemistry is ubiquitous so we have a very broad mandate and remit,' says Vega. For example, the Rio 2016 hockey competition at the Deodoro Olympic Park will be played on a more reliable and faster synthetic turf containing Dow polyethylene resins. Dow materials are also being used across Olympic venues; the plastic drainage pipes under the grass pitch of the main Maracanã stadium are made by Dow.
Dow's involvement includes providing expertise to individual Olympic teams for both the summer and winter games. In 2012 they engineered, designed and developed the first brand-new sledges for the US luge team in almost 20 years, utilising computer modeling and extensive materials testing to create a lighter more efficient design. They have now partnered with the US Paralympics cycling team to provide improvements to hand cycles and other equipment.
Military manoeuvres
Chemists are also involved in keeping the games safe. The Brazilian army is using four mobile laboratories to deal with chemical, biological, radiological and nuclear threats (CBRN) during the games. These activities are handled by the Rio-based CBRN Defense Institute, which was created in September 2015 and provides scientific advice to the Brazilian Army. The unit comprises a dozen chemical scientists as well as microbiologists, pharmacists, materials engineers, physicist and a geographer to cover all areas of detection, prevention and training of emergency service personnel.
Paulo Cabral, the colonel who heads the CBRN division at the Brazilian Army Technological Centre, says their role starts before any event. 'For each high visibility event, a new risk assessment is performed and it depends fundamentally on the playing actors of each event. When the Pope came to Brazil, the threat had a different nature from the sporting events.'
[[7kg of sodium thiocyanate was seized after detection by the army's team]] Two of the mobile labs that will be deployed during the Olympics are able to analyse chemical samples and perform preliminary biological tests. Each lab is equipped with a glove box, a safe receipt system for hazardous samples, gas chromatography equipment and weather forecast systems, as well as equipment to perform protein screening and PCR assays. 'They are able to work up to 72 hours in a contaminated environment due to their diesel-powered generators,' says Cabral.
Cabral and his unit have previous experience of large international events before the current organisation was established. 'During the football World Cup in 2014 there were some samples analysed, but they proved to be non-hazardous'
he explains. There were also false alarms, such as the detection of medical isotopes, although that has not always been the case. 'A considerable amount of sodium thiocyanate was seized (about 7kg) in São Paulo. This substance can be used to produce cyanide, but intelligence proved it was associated with drug dealing, as it can also be used to mask cocaine tests.'
Sometimes the false alarms are caused by the tropical working conditions, Cabral explains. 'The equipment is normally tested to perform tasks in conditions different from Brazilian conditions. Humidity and temperature levels are also very different in each region of our country, and that requires more care to be taken during maintenance procedures and changes of filters and desiccants.' The chemicals found in Brazilian household goods – such as cleaning products or paints – are often different to those in other countries, so the unit has had to make its own modification to the chemical libraries supplied with the equipment: a process Cabral calls 'tropicalisation'. This involves adding new data on local substances, or modifying the alarm thresholds to adapt to local requirements.
Protecting the Olympic and Paralympic games from CBRN threats is still a difficult task. 'We still have substances that are challenging to be identified' says Cabral. 'Toxins like ricin and abrin pose a huge risk and they are quite difficult to be determined in a mobile laboratory. We also [deal with] conventional substances, such as explosives, that can be part of a device and some of them are pretty challenging.'
Leaving a legacy
While chemistry is contributing to the Olympics, it is hoped the Olympics might contribute something back to chemistry. The Federal University of Rio de Janeiro (UFRJ) is home to the country's new anti-doping control laboratory. It replaces an older facility that had failed to meet international standards. The new lab is in a purpose-built building with new and updated equipment. During the games, it was to be responsible for testing up to 6000 samples for 10 classes of banned substances. However, shortly before the Oympics the lab's accreditation was suspended by the World Anti-Doping Agency (Wada); its suspension was lifted on 20 July.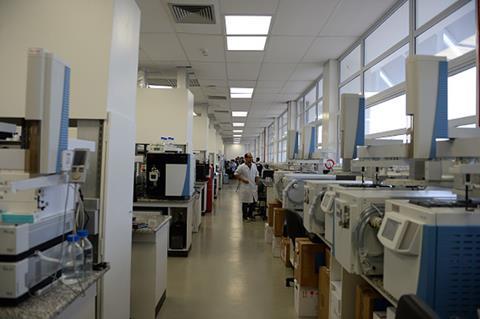 Despite this temporary setback, the new building, built on the artificial bayside island of Fundao, is part of what is hoped will become a 'chemistry zone', explains the director of the university's Institute of Chemistry Cássia Curan Turci. 'The idea is to gather all the labs, administrative staff and faculty members in one place, in five buildings similar to the one that has been constructed for the Olympics … we hope that the legacy of the Olympics can positively influence the government and the university's administration to complete the complex.'
The legacy will also include new staff. 'It has been highly profitable to the university to be involved with the Olympics, not only in terms of getting new facilities and equipment, but concerning the hiring of new faculty members,' says Turci. The institute has hired 50 permanent technicians, plus assistant professors who will remain after the games. About 80% of the funding has come from Brazil's Sports Ministry, with the remainder from the Education Ministry. The additional support is particularly welcome given the crisis in science funding caused by Brazil's current economic problems; overall, about one-third of the country's science budget has been cut from 2014–2016, slowing down progress in key research areas like sustainable development.
Another positive outcome Turci sees for chemistry is the public visibility provided through media coverage of the new anti-doping lab. 'Many people in Brazil still see chemistry as a bad thing, associated with pollution and waste,' she explains. 'The visibility that the Olympics is giving to chemistry, through the anti-doping lab, will certainly motivate Brazilian people to discuss the role of chemistry in developing biofuels and renewable energies, new drugs and vaccines for tropical diseases, among other subjects that currently affect our society.'
Rachel Brazil is a science writer based in London, UK