State-sponsored doping that benefited more than a 1000 athletes at Sochi and London Olympic games revealed by analytical investigation
Advances in science and anti-doping strategies were undermined by a 'well-oiled' machine geared up to helping Russian athletes cheat at major international competitions including the London and Sochi Olympic Games. The extent of the doping, and the techniques which evolved to hide the evidence, were uncovered by an independent forensic and scientific investigation led by Canadian law professor Richard McLaren.
The report identified over 1000 athletes in 30 sports who were involved in, or benefitted from a 'systematic and centralised cover up and manipulation of the doping control process'. McLaren's report, commissioned by the World Anti-Doping Agency (Wada) used science to confirm the testimony of the former director of the Russian anti-doping laboratory Grigory Rodchenko, who fled to the US in January.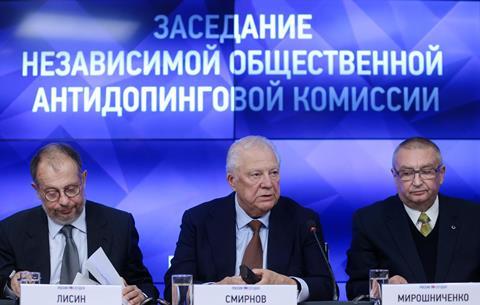 While working for Russia's anti-doping lab, Rodchenko developed a test for metabolites of the anabolic steroid Turinabol, which Russian athletes had been abusing. He then undermined that advance, by developing a so-called Duchess cocktail of oxandrolone, methenolone and trenbolone, with a very short detection window. To check that athletes had successfully moved from the Turinabol regime to the new cocktail and so wouldn't test positive at London 2012, the Russian lab conducted a programme of 'washout' testing. This pre-competition testing was used to ensure an athlete would be able to compete without being detected by doping control. Usually a positive pre-competition test would have resulted in an athlete being banned, but the Moscow labs recorded negative results on Wada's reporting system and later used non-official sample bottles, so even the fact of pre-competition testing would be hidden. Athletes who wouldn't be clean for an international competition were left at home.
Later, ahead of Sochi, athletes who were likely to win a medal could dope right up to and possibly during the games because they were put on a 'protected' list of 37 athletes, compiled by Russia's sports ministry and the Centre for Sports Preparation of National Teams of Russia. They provided clean urine that was presumably taken from athletes while not on the cocktail, which was frozen and stored for swapping at the Sochi games.
Subverting tests
The inquiry's medical and scientific adviser Christiane Ayotte, noted that a number of positive results on the washout list demonstrated 'significantly high levels of prohibited substances'. Those samples have since been destroyed by the Moscow labs, so cannot be retested. However, 62 urine samples from 27 of the 37 'protected' athletes were available to the investigation.
Alan Brailsford at the Drug Control Centre in London, who coordinated sample testing for the inquiry, says normally 'you're looking to detect something that shouldn't be there'. However, the Russian labs were 'trying to work out what would indicate tampering'.
There was no one 'smoking gun' that indicated state sponsorship of systematic cheating on doping tests. Many scientific disciplines worked together in a 'global approach to building up a weight of evidence' of Russian tampering.
Sample swapping or manipulation was established by chemical analysis. When a 'dirty' sample was swapped for 'clean' urine, the inquiry was told that it was sometimes altered by adding salt or water, to maintain specific gravity, or even coffee granules so it would appear similar to the sample it replaced.
The Drug Control Centre had to establish baselines for urine salt concentrations in the Russian population, and average salt losses for athletes at the temperatures in which they competed. Using highly sensitive inductively coupled plasma mass spectrometry scientists established that six samples had salt levels not possible in a healthy human, never mind an elite athlete. Two samples had impossibly low levels of salt.
Making a match
Sometimes, the Russian lab didn't have any – or enough – clean urine to enable a straight swap, so other athletes' clean urine was added or used instead. To confirm this, the London lab had the unusual task of testing urine for DNA. To help the London team, Wada labs around the world were scoured for comparator DNA samples for athletes under suspicion. Amongst a number of inconsistencies, male DNA was found in urine purportedly from two female hockey players. They were not on the sport ministry's original protected list for the Sochi games, so their clean urine was never collected.
In doping control, a urine sample is divided into A and B bottles. The B sample is only opened if an irregularity is discovered in the A sample and the B sample bottles are designed to be tamperproof. Where tampering was revealed in A samples by the salt and DNA findings, forensic analysis was carried out on the second B sample bottles. Up till 2012, the Russians had only swapped A samples, but a surprise request from Wada for both A and B samples from some athletes led to efforts by Russia's security service, the FSB, to find a means of opening the B bottles – which they achieved by early 2013. This was confirmed by microscopic analysis of 117 of the B bottles from protected athletes competing at the 2014 Sochi winter and Paralympic games All were shown to have scratches and marks not visible to the naked eye.
What the report highlights, says Brailsford, is that to have a successful anti-doping strategy 'you need effective sample collection and maintenance of sample integrity'.
Angeli Mehta is a freelance science writer with a research PhD, based in Edinburgh, UK
View full profile