The thrills and spills of leading a school of chemistry
The head of school role is notoriously deemed undesirable owing to the additional administrative burden and time taken away from their research. But for those who take up the position, the opportunity to help shape the direction and future of their department for the better awaits.
Measures of success
Heads of schools have overall responsibility for their department's research game-plan and ensuring the teaching is top-notch – metrics against which UK higher education institutions are currently assessed. They also develop a school's knowledge exchange and commercialisation strategy (a metric that will soon be assessed as well) and set budgets for their department, which can be a particular challenge as chemistry has more expensive overheads compared with non-science disciplines.
Staffing is another key duty. 'I'm responsible for bringing in new people,' explains Steve Howdle, head of school of chemistry at the University of Nottingham. 'This includes technical, assistants and clerical, and research staff – from new PhDs and post-docs all the way through to professor.'
Heads must also ensure that employees at all levels are happy in the workplace. 'A lot of my time is spent trying to make sure that the school of chemistry is a place where everybody looks forward to coming to work every day,' Howdle says. Shaping departmental culture is part of this, including ensuring equality, diversity and inclusion.
Balancing acts
Taking on the mantle of head of school can be a challenging juggling act. Professors maintain a research group during their stint as head of school and keep publishing papers and winning research funding. They will probably also teach undergraduate courses and have personal tutees. Often professors rotate the responsibility of having overall charge of their university departments (or school) between themselves, typically switching every four years, although some, such as the University of Bristol's head of school of chemistry Emma Raven, are recruited outside the department.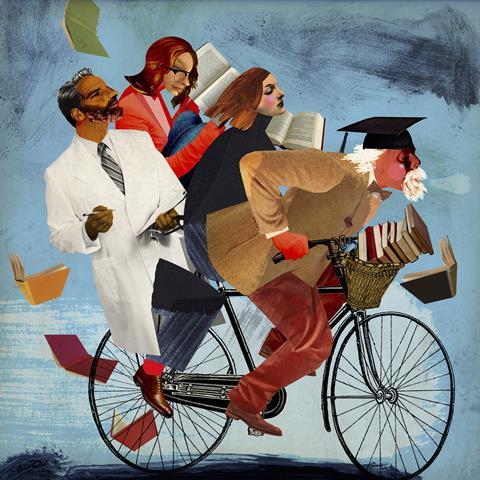 Raven says she tries to carve out half her time for non-head of school activities. 'Some weeks that works really well, other weeks it's a complete disaster,' she explains. Howdle, meanwhile, says he wears his head of school hat around 3.5 days a week, which means his research progress has slowed. 'I can't possibly pack into one and a half days what I've got used to doing in five,' he says. 'I've appointed somebody to help me with the day-to-day running of my group, and I just try to be very smart and efficient with the time I've got left.' Howdle also sets personal boundaries to ensure a good work–life balance. 'I try not to take work home with me in the evenings and weekends,' he says. 'I'm very open about that.'
If taking a head of school position equals less time for research and a larger administrative burden, why do professors volunteer for the role? 'There are pragmatic reasons why people emerge into these roles,' explains Raven. 'You feel responsible for the health of your subject and the health of your department, and you see your colleagues taking that responsibility and you feel that you can offer something like that.' Howdle agrees: 'there's an element of giving something back.'
Both Howdle and Raven say that they are enjoying their leadership role. Howdle is 18 months in, while Raven took up her post in August 2018, having previously been head of school at University of Leicester from 2013 to 2016. 'The best bits are hosting the graduation event, announcing when people have got promoted, watching our PhD students succeed, seeing colleagues win major awards and publish great papers,' says Howdle. Raven agrees: 'I love the graduation party'.
A helping hand
Neither feels lonely at the top. There are line management structures and various committees in place to support heads of schools in their roles. 'I've got a lot of support here,' says Raven.
Heads of schools also get wider support from other parts of academia. 'Our university has a leadership and management academy that has provided some really effective training,' says Howdle. Nottingham also recently introduced a buddying scheme for heads of schools with senior colleagues working in unrelated sectors of the university. 'We meet regularly and chat about difficulties that we face,' he says.
The independent body Heads of Chemistry UK (HCUK) also facilitates communication between the 70 heads of chemistry departments in the UK and Ireland, acting as a forum to discuss problems with those in similar positions. 'It's part science, and part therapy for heads of school,' says Raven.
So what is currently keeping UK heads of chemistry schools awake at night? 'The Augar review,' answer both Raven and Howdle. A serious concern is the possibility that this governmental review of education funding post 18 years might lead to tuition fees being slashed. Differential fees are also feared, where higher fees are charged for degrees in scientific subjects than for those in the arts. 'It's a worry what might happen to our discipline if students are given the choice of studying something expensive or not,' Raven explains. Discontent about changes to university staff pensions and the current demographic dip in 18-year-olds hitting student numbers are also concerns and so, at the time of writing, is Brexit.
The challenges of being head of school aren't likely to go away – but for those willing and resilient enough to weather them, it can be a rewarding position.