After decades of exporting oil, Saudi Arabia is looking to increase its capacity to produce chemicals. Emma Davies reports
Saudi Basic Industries Corporation (Sabic) was created by royal decree in 1976, to make chemicals from the byproducts of oil extraction. In the years that followed, a sleepy Saudi fishing village called Al Jubail was transformed into an industrial city and the company's first joint venture plant began production there in 1983.
Fast forward and the fishing village on the Arabian Gulf coast is a distant memory. Shimmering lights mark out the many chimneys and superstructures on the skyline. Residents are housed on an island linked to the mainland while a 'picnic zone', with much needed greenery, sits to the west of the industrial complex. A double pipeline transports oil and gas to Jubail's twin city, Yanbu, which sits on the other side of the Arabian Peninsula on the Red Sea coast. Sabic is still the city's main investor, with countless joint ventures.
Now comes Jubail industrial city II, a project on an unimaginable scale. There, Sadara, a joint venture developed in 2011 by Dow Chemical and Saudi Aramco, is constructing 'the largest chemical complex ever built in a single phase'. Scheduled to begin producing chemicals in 2015, the site will contain 26 'world-scale' manufacturing plants, which are predicted to produce over 3 million tonnes of products per year. It will also have its own desalination plant, with some of the resulting fresh water to be used in the complex's cooling towers.
Building the site is a major undertaking, requiring a million cubic metres of concrete and enough steel to build 'two Golden Gate bridges' to date, and cabling that would stretch from Jubail to London and back again, according to Sadara. Around 60,000 workers are currently on site, the company says, with construction activity reaching its peak. 'It's very ambitious and very promising in terms of the downstream industries that will be stimulated as a result,' says Abdulwahab Al-Sadoun, secretary general of the Gulf Petrochemicals and Chemicals Association?(GPCA).
Not least, the new city has required significant investments in infrastructure, including a railway to transport Sadara's products to the King Fahd industrial port and Jubail's commercial port. This project is run jointly by Sadara and the Saudi Arabian Railway Company.
Next to Sadara's manufacturing complex will be a futuristic sounding PlasChem park, which is being set up by Sadara and the Royal Commission for Jubail and Yanbu. The 12km2 park will house downstream manufacturing industries that can make use of the chemicals produced in Jubail, from plastics to packaging. The park will 'promote strong growth in downstream manufacturing industries and create the perfect breeding ground for diversified products and services made in Saudi Arabia, according to Sadara. Yanbu Industrial City will also have its own PlasChem park.
Cracking developments
Just over half of the 26 manufacturing plants under construction are new to Saudi Arabia, including amines, glycol ethers and isocyanates, claims Sadara. Key to the Jubail?II complex is a mixed feed cracker that uses both ethane and naphtha, which contains a range of C5 to C10 hydrocarbons and is generally obtained from crude oil. Sadara claims that it will be the first company in Saudi Arabia to crack naphtha, 'creating a whole new value chain through chemistry'. The idea is that the mixed feed can be used to produce a wider range of chemicals.
The cracker will produce ethene and propene; ethene will then be used to make a range of plastics, as well as ethene oxide, used for butyl glycol ethers and amines. Propene, meanwhile, will make propene oxide, which in turn will give polyols and propene glycol. Benzene and toluene will be used to make isocyanates for polyurethanes.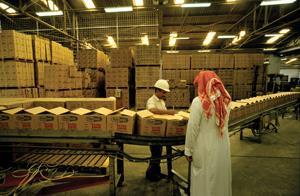 The amines and butyl glycol ethers are aimed at consumer, industrial, construction, agriculture, electronics and coatings markets. Meanwhile, polyurethanes will be sold primarily for use by the furniture, bedding, transport and construction industries. Sadara will sell these products as part of its 'targeted growth' in the Middle East. Dow will be responsible for marketing and selling the products in other parts of the world, primarily in the Asia–Pacific region, Africa and eastern and central Europe.
Sabic, meanwhile, is working on a project to convert oil directly to useful chemicals such as ethane, propene and benzene, which would be a 'major accomplishment,' says Al-Sadoun. In May 2014, the company revealed that its oil-to-chemicals plant would begin operating by the end of 2020. For this, it expects to use about 10 million tonnes of crude oil annually, or about 200,000 barrels a day.
The company remains quite coy about the details of the new plant, which is rumoured to be planned for Yanbu, Saudi Arabia's second largest industrial city. It predicts that the complex will create 100,000 jobs.
Export, export
Sadara's project reflects the petrochemical industry's steady evolution in the region over the past three decades from importer to exporter. To emphasise the point, Saudi Arabia has set up a National Industrial Cluster Development Programme, a government agency, to lead development of five export-oriented industrial sectors, one of which is plastics and packaging. The industries all use Saudi Arabia's 'abundant natural resources, raw materials and energy', according to the programme's website. The cluster strategy is to 'generate the fastest possible growth in exports' and to help develop skills within Saudi Arabia.
'The industry relies on a global market, but within this global market there is a drive towards self-sufficiency, for example in the US and China,' says Al-Sadoun. 'This is a challenge for producers but they are strong and enjoy competitiveness.'
Of the Gulf Cooperation Council (GCC) countries – Bahrain, Kuwait, Oman, Qatar, Saudi Arabia and the United Arab Emirates – Saudi Arabia is the biggest chemicals exporter, according to figures from the GPCA. Most are shipped to Asia, with ethene, methanol, and propene dominating sales.
Companies in the region have traditionally relied on feedstock advantage to produce commodity chemicals. 'There is a move towards diversifying product portfolios towards high value-added products, such as performance chemicals and speciality chemicals, which started a few years back,' says Al-Sadoun. Industry wants to 'capture some of the downstream value that the converted products have, based on those basic commodity chemicals', says Leslie McCune, an independent Middle East petrochemical and supply chain expert at Chemical Management Resources based in Falmouth, UK. 'In the process they will create jobs and, importantly, diversify the economy away from its dependency on the fickle revenues of oil and gas, from which the huge amounts of state-sponsored expenditure are funded,'?he adds.
Employment is an important consideration in Saudi Arabia, whose demography has a high percentage of young people and there is significant unemployment in the 20–24 year old age range. Sadara talks about 'nurturing local talent' and over 900 Sadara staff are being trained at Saudi Aramco facilities in Saudi Arabia, while over 800 are being trained at Dow sites around the world.
Scientific dividend
The level of R&D in GCC chemical companies is very low compared with the likes of BASF and Dow, according to McCune. However, progress is being made and Saudi Arabia is ploughing money into education facilities. Companies in the GCC are 'investing heavily in developing skills', says McCune. 'The facilities are amazing. The laboratories are among the best equipped in the world but finding the polymer technologists and scientists is often challenging.'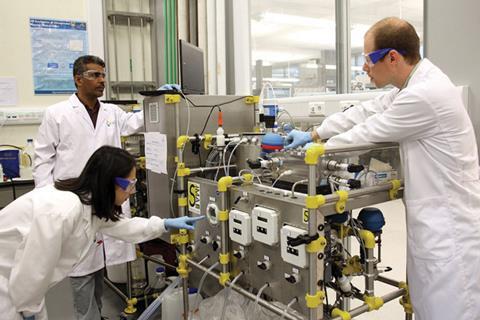 Saudi Aramco has built a public research university, the King Abdullah University of Science and Technology (Kaust) near Jeddah, the country's second largest city. It opened in 2009 and Aramco still funds operating costs, relying on the university as 'an important research and development partner'. Kaust directs significant research funds to top US university scientists. Unlike other Saudi institutions, Kaust allows male and female scientists to mix in a bid to attract foreign researchers, and the campus has its own independent internet system.
Sabic has a Corporate Research and Innovation Centre within Kaust, with biochemistry, chemistry and new materials departments. The company supports research on jointly agreed industry and academic projects so that Sabic and Kaust scientists can share knowledge and experience.
Meanwhile, Sabic opened its $126 million Plastic Applications Development Centre at King Saud University in the capital, Riyadh, in March 2014. It can house more than 200 Sabic scientists, who work with customers as well as with academics and industrialists.
Dow also houses its Middle East and Africa R&D Centre on the Kaust campus, as well as being a founding member of the Kaust Industrial Collaboration Programme. Under the terms of an R&D agreement, Dow and Kaust collaborate on academic research programmes, with the company also providing 'opportunities and funding to educate and train' local people.
'All of these big players see the value of investing in this research university,' says Al-Sadoun. 'This is something that is seen as a priority for the leadership of the industry.'
Company collaboration
Over half of production in Saudi Arabia comes from joint ventures with global partners, says McCune. 'The Saudi companies tend to provide the capital and negotiate the feedstock, while the international company provides the technology,' he says.
For example, Sadara has come together with Belgian chemical company Solvay to build a large hydrogen peroxide plant in Jubail II. The 'mega plant' will provide a key raw material to Sadara for its hydrogen peroxide to propylene oxide manufacturing and is scheduled to come onstream in 2015. Solvay describes its hydrogen peroxide 'leading' technology as being high-yield.
In 2013, Albemarle set up a 50:50 joint venture with the Saudi Organometallics company to manufacture tri-ethyl aluminium, used as a co-catalyst in the plastics industry. Then there's the Saudi Acrylic Acid Company (Saac), a joint venture between Saudi companies Tasnee and Sahara Petrochemicals. Saac in turn has a collaboration with Dow, the Saudi Acrylic Monomers Company, and another with Evonik, the Saudi Acrylic Polymer Company.
Meanwhile, the Saudi Butanol Company is building a plant in Jubail. The joint venture between Sadara, the Saudi Kayan Petrochemical Company and Saac is aimed at supporting the growth of the paints and coatings industry in Saudi Arabia.
From educational collaborations to industrial joint ventures, Saudi Arabia's petrochemical industry is undoubtedly entering a new phase.
Emma Davies is a science writer based in Bishop's Stortford, UK