Hardware hackers encouraged to exploit new manufacturing approach in open source schemes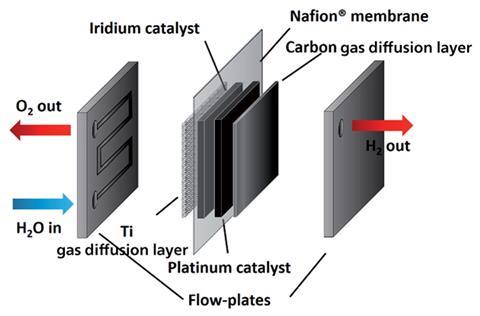 Researchers in the UK have used 3D printing to cut the cost of manufacturing devices that produce hydrogen fuel by splitting water.
Electrochemical water splitting is a promising strategy to capture and store energy from renewable sources like solar and wind; however the high cost of devices has limited its widespread use. Usually the flow plates, which distribute liquid reagents and gaseous products in fuel cells, are made from graphite, titanium or stainless steel. Each of which has disadvantages, such as poor corrosion resistance or high cost. However, Lee Cronin and co-workers at the University of Glasgow have found that 3D printed plastic components coated with silver paint are a cheaper and effective alternative.
The 3D printing approach allows for the construction of light weight and low-cost electrolysers. The cheaper plastic components could also make the devices available to a wider audience. Hardware hackers in the scientific community are encouraged to use the new manufacturing approach in open source developments.
Lorenz Gubler, an electrochemical cell expert at the Paul Scherrer Institute in Switzerland is positive about the research, commenting that the 'work shows encouraging initial results'. He does, however, highlight potential issues such as its limited conductance and lifetime compared to state-of-the-art cells.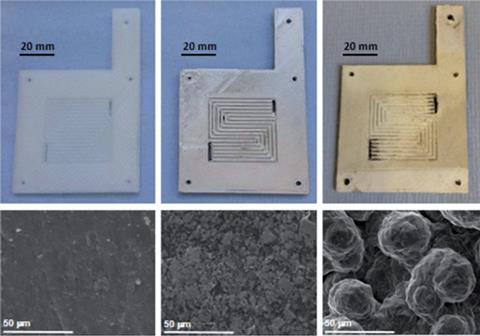 'Although many researchers would disregard plastic as not being conductive or strong enough, our system has been shown to work and this in itself is incredibly exciting. This is a first step set to make people think differently,' responds Cronin.
Next Cronin says he would like to 3D print a 'mini' steam engine for USB charging: 'which yes will need to be made from non-combustible materials to cope with steam'. He is also very interested in seeing what the makers, hackers and users of the technology make of the research.
References
This article is free to access until 15 August 2014. Download it here:
L Cronin et al, Energy Environ. Sci., 2014, DOI: 10.1039/c4ee01426j