Enormous blast at China chemicals producer flattens large parts of industrial park and injures more than 600 people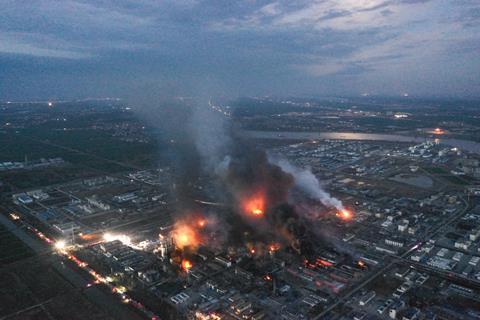 An enormous explosion at an east China chemical plant has killed 47 people, seriously injured 90 and put another 640 in the hospital. The blast flattened the plant and 16 neighbouring factories, leaving an enormous crater. It set off a tremor equivalent to a 2.2 magnitude earthquake, smashing windows and collapsing roofs up to 3km away.
The blast occurred on Thursday afternoon at Jiangsu Tianjiayi Chemical Company in an industrial park on the outskirts of Yancheng, a city 300km north of Shanghai. More than 900 firefighters spent all night battling fires that had engulfed chemicals storage tanks and had spread to five neighbouring factories. 4000 workers and residents were evacuated from the area.
What caused the explosion has not been confirmed. According to site workers cited by business news outlet Caixin, a lorry carrying natural gas had caught fire, creating an explosion in a benzene storage tank.
What exactly the plant produced also remains unclear. Most outlets report the plant makes pesticides or fertilisers. News agency Reuters wrote that the company produces more than 30 organic chemical compounds.
According to its website, Tianjiayi is a fine chemical company that specialises in producing m- and p-phenylenediamine. Both compounds are precursors for polymers, resins and dyes. m-Phenylenediamine is prepared from benzene by dinitration and hydrogenation. The para isomer is made from p-nitrochlorobenzene, which is treated with ammonia and then hydrogenated.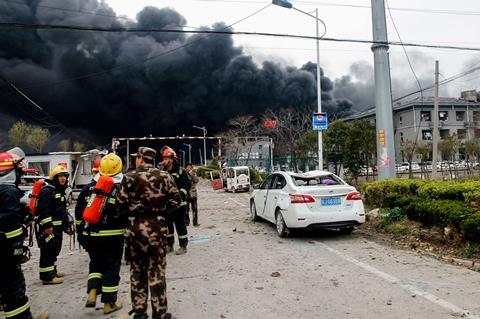 An inspection of the Yancheng plant in February 2018 recorded 13 safety problems, including missing emergency shut-off valves on benzene and methanol tanks, leaks, missing operating procedures and overall poor site management.
The deadly explosion also caused widespread pollution. Air quality tests 3km downwind from the site on Friday morning found nitrogen oxide levels twice the safe maximum. Highly elevated levels of dichloromethane and dichloroethane were measured in local river water.
China's president Xi Jinping, who is currently in Italy on a state visit, said no efforts should be spared to rescue people and care for the injured. He also called for stricter inspection procedures to prevent similar accidents in the future. According to the New York Times, an undisclosed number of Tianjiayi Chemical Company officials were detained after the explosion.
In 2015, another enormous blast at a chemical storage warehouse in Tianjin killed 165 people and injured 700. The accident had prompted an overhaul of the country's chemicals safety regulations. 48 staff and government officials deemed responsible for the explosion received suspended death sentences.