The closure of a BASF hexamethylene diamine plant at Seal Sands, near Middlesbrough in north-east England, will result in 390 job losses. BASF is switching production of the plastics component to France.
In January BASF told Ineos, the company that operates its hexamethylene diamine facility, that it would close. The plant had been idle since January 2020. BASF was due to take it over in full from 12 February 2021, but had expressed concerns about its 'profitability and competitiveness', according to Stockton North MP, Alex Cunningham, who is responsible for the constituency Seal Sands is based in.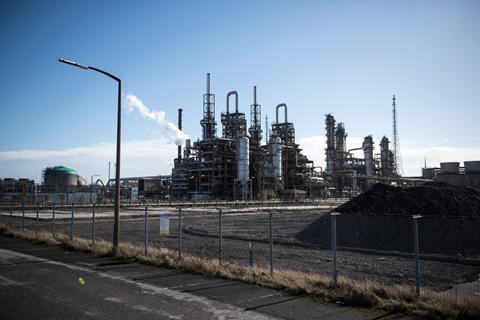 Hexamethylene diamine is mainly used to produce polymers, and by extension in automotive components, such as engine seals and fuel system parts. Demand for this has been low during the automotive turndown which, coupled with the Covid-19 crisis, has been troublesome for BASF.
In 2019, the company revealed plans to axe 6000 jobs worldwide by the end of 2021. In September last year BASF tightened its austerity policy again, with chief executive Martin Brudermüller announcing it would cut up to another 2000 jobs in its Global Business Services unit by the end of 2022. The first round of these cuts hit 600 employees at BASF's headquarters in Ludwigshafen, Germany, last month. With the job cuts, BASF wants to save more than €200 million (£175 million) annually from 2023.
Political fallout
BASF's decision for Seal Sands, however, came with wider political repercussions because the industrial giant took a £1 billion loan from the Bank of England. The money was part of the UK's covid corporate financing facility (CCFF) aimed at helping employers in the UK get through the crisis. CCFF, established in April, has so far lent more than £33bn to 232 companies.
BASF's decision to cut ties with Seal Sands despite the bailout raised eyebrows. The company has limited operations in the UK, employing some 700 people across six sites.
The opposition Labour party has condemned the move, with shadow business secretary Ed Miliband accusing the government of shelling out £1 billion in taxpayers' money with no questions asked. 'Why did the government not get guarantees about employment for such a large sum of support?' Miliband said in an interview with the Financial Times.
Cunningham called on the government to explain what conditions were placed on BASF and their UK operations prior to granting the loan. 'We have a right to know whether this money was ring-fenced for British operations or whether Governmental oversight means companies like BASF can use our money to subsidise overseas operations,' Cunningham said in a 28 January letter to the business secretary. Cunningham's office has not had a response to the letter yet, a spokesperson told Chemistry World.