BASF will cut 6000 jobs by the end of 2021, as part of a structural overhaul, which the company expects to result in savings of €300 million (£265 million).
About half the cuts will come in Germany, and most of those at BASF's headquarters in Ludwigshafen. According to a spokesperson, the company is unable to reveal where the other half of the cuts will hit. But staff in administrative functions will be most affected, BASF said, with the first cuts expected in January 2020.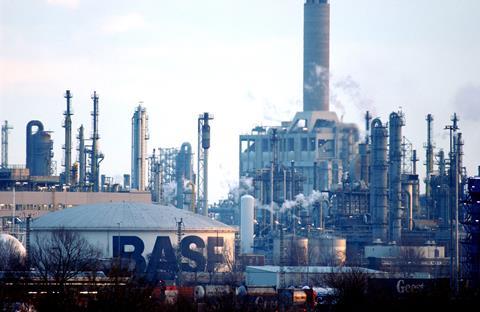 In addition to eliminating almost 5% of its 122,000-strong global workforce, BASF has announced sweeping changes aimed at simplifying its corporate structure. A new corporate centre will take on key responsibilities in strategy, finance, legal, human resources and communications. And BASF will make 29,000 roles more 'cross-functional' by deploying staff into different sites or business units when needed.
'We will set up the new organisation with a clear focus on leveraging synergies, reducing interfaces and enabling flexibility and creativity,' said chairman Martin Brudermüller. 'We will therefore continue to develop our organisation to work more effectively and efficiently.'
The changes form part of an austerity programme the company had instigated last November. The strategy is expected to boost the chemical giant's profits by €2 billion annually from the end of 2021 onwards.
BASF has been struggling with effects of the trade conflict between the US and China, as well as falling demand for chemicals in the car industry. In the first quarter of 2019, its net income (EBIT) slumped by a quarter to €1.7 billion.
'Overall, we are in more troubled waters than we expected in [our forecast in] February,' chief financial officer Hans-Ulrich Engel told German news agency DPA last month.
BASF is not the only company wrestling with these problems. In mid-May, the German Chemical Industry Association (VCI) said that the weaker global economy was causing problems for the chemical and pharmaceutical industry across the country. From January to March, sales in the sector fell by 3.8% year-on-year, to €48.3 billion, and production fell by 6%. The association expects a decline in sales of 2.5% in 2019.
BASF's cuts are less deep than competitor Bayer's trimming of 12000 jobs following its takeover of Monasanto (around 10% of the combined firm's payroll). Nevertheless, the austerity program is unfamiliar territory for the chemical giant. The last time BASF implemented a reduction in personnel at this scale was in the 1990s.