Extremely high levels of toxic metals in children's jewellery is causing alarm among US and Canadian scientists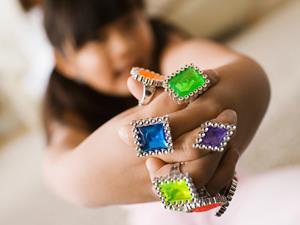 Rising concerns about high levels of toxic metals in costume jewellery are prompting scientists in the US and Canada to speak out about the issue and call for tighter restrictions.
'We know enough about these metals and how toxic they are – there is no reason to put them in inexpensive products that children might have contact with,' says Jeffrey Weidenhamer, a chemistry professor at Ashland University in Ohio, US who has examined heavy metal contamination in consumer products like jewellery.
Recently an investigation by Washington state's Department of Ecology tested 27 pieces of costume jewellery that came with young children's dresses, including brooches, charms and necklaces, and found that five contained unsafe levels of cadmium or lead. One necklace was 98% cadmium – nearly 25,000 times the legal maximum of 40ppm set by Washington state. The state's current law restricts levels of cadmium and lead in children's products to levels of 40ppm and 90ppm, respectively. In addition, another piece contained lead at 50,100ppm.
'This certainly lines up with what I have seen,' Weidenhamer tells Chemistry World. He has analysed costume jewellery at various stores in Ohio and found several with high levels of cadmium as well as lead. In fact, these metals showed up in some of the products that were actually labelled 'lead free'. One such item turned out to be 85% lead, according to Weidenhamer.
Researchers in Canada have found similarly high levels of cadmium in costume jewellery. As part of an investigation by the Canadian Broadcasting Company (CBC), researchers from the University of Toronto and Polytechnique Montréal tested costume jewellery samples from various stores. The team found that several items from two retailers had between 15 and 7000 times the Health Canada threshold for cadmium in children's jewellery. One piece was 99% cadmium, says Gérald Zagury, a professor of environmental chemistry at Polytechnique Montréal who analysed the jewellery. While the researchers observed rather low levels of lead in the pieces overall, one sample did contain 170ppm of lead.
Canadian regulations in this area are, however, lower than those in the US. The limit for cadmium in such products is 130ppm and 600ppm for lead. The US and Canadian rules are murky when it comes to what is considered a 'children's jewellery' item though. Weidenhamer says no state or federal guidelines restrict lead or cadmium in jewellery that is not explicitly intended for children. This is because the main concern has been about infants and young children eating or putting such products in their mouths. The movement of these metals through skin appears to be much less significant, and the uptake rates for metals through the digestive tracts of children are significantly higher than for adults, he explains.
Zagury blames inadequate control by the authorities and a lack of retailer compliance for the presence of these high levels of cadmium and lead in costume jewellery. He suggests that what is needed in the US and Canada is random testing of such items.
The issue is complicated because the vast majority of the costume jewellery sold in the US and Canada is imported from China. 'It is inexpensive, so it is made with the cheapest materials available,' Weidenhamer says.