AbbVie nabs antibody specialist Stemcentrx, while Sanofi pursues Medivation
A slew of investment demonstrates that cancer is still a big driver in the pharma sector. US firm AbbVie has agreed to buy Stemcentrx for approximately $5.8 billion (£4 billion). Meanwhile, Sanofi of France is pursuing a takeover of Medivation, and EMD Serono is expanding its US R&D facilities.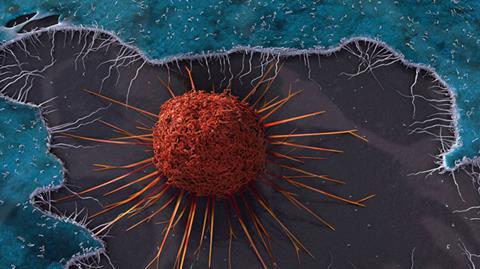 AbbVie's acquisition gives it access to Stemcentrx's late-stage compound rovalpituzumab tesirine (Rova-T) for small cell lung cancer. 'Rova-T is the first predictive biomarker-based therapy associated with drug efficacy in small cell lung cancer, and that is a big deal for this difficult disease,' said Charles Rudin, chief of Memorial Sloan Kettering Cancer Center's thoracic oncology service, who has conducted clinical trials with Stemcentrx.
In addition to Rova-T, Stemcentrx has four compounds in clinical trials across breast, ovarian and non-small cell lung cancers. Stemcentrx also has a proprietary technology platform that uses stem cell biology to identify and screen potential targets against live tumour tissue.
The deal complements AbbVie's recent expansion in cancer therapies with its acquisition of Pharmacyclics last year, which gave it access to blood cancer drug Imbruvica (ibrutinib). The US Food and Drug Administration last month also approved Venclexta (venetoclax), which the company developed in partnership with Genentech. The molecule targets B-cell lymphoma 2 (BCL-2) protein, which supports cancer cell growth and is overexpressed in many patients with chronic lymphocytic leukemia.
Meanwhile, French company Sanofi is pursuing Medivation, a US-based company with one marketed advanced prostate cancer therapy, Xtandi (enzalutamide). Medivation's board unanimously rejected Sanofi's unsolicited cash offer of around $9.3 billion, saying it is 'opportunistically-timed' and 'substantially undervalues' the company.
Sanofi spokeswoman Amy Ba says there have been exciting recent breakthroughs in immuno-oncology (which involves harnessing the immune system to fight cancer). The field has quickly become a priority area for pharmaceutical industry R&D investment. In 2015 and the beginning of 2016, Sanofi expanded its external collaborations to explore novel avenues in this field of research, she states.
Separately, EMD Serono – the US arm of German firm Merck KGaA – is investing $12 million to expand its R&D facility in Massachusetts. The new building will accommodate around 120 new and current employees, with a focus on oncology, immuno-oncology and immunology.
RBC Capital Markets biotech analyst Simos Simeonidis says this industry focus on cancer is 'not at all surprising'. He points out that oncology remains one of the largest commercial markets in the biopharmaceutical industry in terms of sales, and predicts that cancer will continue to be an area of biopharma focus for at least the next decade.
'I would say it continues to be very attractive to them,' Simeonidis tells Chemistry World. He notes that the biotech sector develops more innovative, effective and safer agents to the market, and can command premium prices given the severity of the disease.