Cancer specialist likely just one target in hunt for marketed drugs to offset patent expiries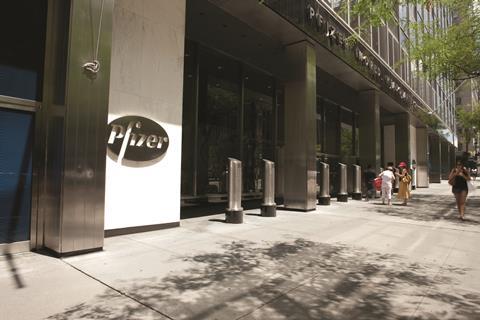 Pfizer has agreed a $14 billion (£10.6 billion) cash deal to buy fellow US drug manufacturer Medivation, as it strives to stop its revenues sliding towards a 'patent cliff'. Yet, with the pharma giant forced to outbid rivals for a company with just one therapy already on the market, the deal brings significant risk.
Medivation's board had previously unanimously rejected an unsolicited cash offer of around $9.3 billion from France's Sanofi, and had reportedly opened a sale process that attracted several large companies. Pfizer has emerged the victor, financing the deal from the substantial cash reserves it retains after its failed acquisition of Allergan. 'The process was competitive and we think we paid a fair price,' Pfizer chief executive Ian Read told investors during a conference call.
The primary appeal to Pfizer is Medivation's prostate cancer drug Xtandi (enzalutamide), the market leading androgen receptor inhibitor in the US. Over the past year it has generated approximately $2.2 billion in worldwide net sales, in part through a marketing partnership with Japan's Astellas Pharma. The companies are currently running late-stage clinical trials to expand Xtandi's use in prostate cancer, and extend it to breast cancer.

However, Pfizer also emphasises the potential of two Medivation drugs in late-stage trials, and their potential to complement its own cancer portfolio. The first, talazoparib, is a breast cancer drug in Phase III testing. The second, pidilizumab, is a monoclonal antibody currently in Phase II trials targeting blood cancers, despite having been found not to work through its intended immuno-oncological mechanism of checkpoint inhibition .
Frank Rinaldi, director of UK-based biotech consultancy Evolution Bioscience, highlights Pfizer's great need to buy in approved and late-stage developmental drugs. Its revenue has been slowly declining after patents for blockbusters like cholesterol-lowering Lipitor (atorvastatin) and anti-inflammatory Celebrex (celecoxib) expired in recent years.
'They can relatively easily get their hands on compounds that are just about to go into human studies, but they need stuff that's much closer to the market,' Rinaldi says. He calls the deal a good move from that viewpoint, especially if the trials in progress are successful, but that Pfizer has 'paid through the nose'. 'I think Sanofi had it valued correctly,' Rinaldi says. 'They know themselves there's a high risk. It's almost like roulette.' He adds that Pfizer will likely buy several more late-stage products over the next two or three years.
Meanwhile, Pfizer is also eliminating several operations related to its purchase of biosimilar manufacturer Hospira last year for $15 billion. A spokesperson tells Chemistry World that Pfizer will 'exit the legacy Hospira plant located in Boulder, Colorado by 2019'. It is also consolidating its US biopharmaceutical distribution operations, and will therefore be 'exiting legacy Hospira logistics centres in Atlanta, Dallas, Los Angeles, and King of Prussia, by second quarter 2017'. A similar fate is unlikely to befall Medivation, as it's a smaller company, the spokeperson adds, which contracts other companies to produce its drugs.