UK chancellor plans to create a 'nothern powerhouse' for research while the community awaits further details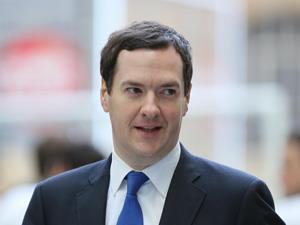 The UK chancellor, George Osborne, has told MPs that science is 'a personal priority' but the commitments in yesterday's autumn statement drew only a cautious welcome from science bodies.
The chancellor has committed £5.9 billion to the country's research infrastructure over the next parliament – a real terms spend of £1.1 billion a year. This will be split. There will be £3 billion for world class laboratories, which the Campaign for Science and Engineering (CaSE) says will fund core running costs. Facilities will have to compete for half of this sum. 'The question is whether £3 billion is enough to keep things running as usual,' says CaSE director Sarah Main.
'The problem here is the chancellor's welcome words are not always matched by actions across government,' she adds. Main points out that there has been no commitment to continue the science budget ringfence, brought in to protect research spending from cuts, over the next parliament. Many government departments have already made deep cuts in their R&D expenditure to meet public spending commitments, she adds.
Grand ideas
The remaining £2.9 billion is to be spent on what the chancellor described as 'grand challenges'. Of this money, £800 million has been set aside for a number of projects, including £235 million for the Sir Henry Royce Institute for Advanced Materials, which will work on areas such as chemistry and nanotechnology. It will be based at the University of Manchester with 'spokes' at six other universities: Leeds, Liverpool, Sheffield, Cambridge, Oxford and Imperial College London. The institute will also receive support from the National Nuclear Laboratory in Cumbria and the Culham Centre for Fusion Energy in Oxfordshire.
We need politicians to ensure funding decisions are based on fair, open consultation and scientific excellence
Other projects that got the green light include the £42 million Alan Turing Centre to work on big data analysis and £95 million to take the lead in the search for life, both past and present, on the next European mission to Mars.
Much of this £800 million is committed to England's northern cities, where the chancellor said he wanted to create a 'northern powerhouse' partly funded by the proceeds from shale gas. To that end he also confirmed £31 million for 'world class' sub-surface test research centres for technologies such as shale gas and carbon capture and storage. There is also £5 million to help to convince the public of the 'robustness of the existing regulatory regime' for shale gas exploration.
Great questions
Proposals will also be launched for another £900 million to tackle the 'great questions and opportunities of the time'. Osborne didn't specify what these are, but said future proposals would be subject to international peer review. Previously, Osborne has outlined eight technology areas that he wants the country to lead in, including energy, synthetic biology and advanced materials.
There is new money for the seven high value manufacturing Catapult centres: £61m for 'cutting edge equipment and expertise' to help over 2000 firms develop products in areas such as robotics. Slated to open in 2016, the National Formulation Centre, which will be part of the Centre for Process Innovation Catapult, based at Sedgefield in County Durham, will get £28 million. The formulation centre aims to help companies tackle problems that are considered either too high risk or commercially challenging in areas such as medicines and processed foods.
Dominic Tildesley, president of the Royal Society for Chemistry, welcomed the backing for the Formulation Centre, and added: 'Earmarking roughly a quarter of capital science funding for competition by existing facilities is also a step in the right direction but, to truly maximise the impact of science on the economy, we need politicians now and beyond next year's election to ensure funding decisions are based on fair, open consultation and scientific excellence.' He said that he was looking forward to seeing the government's strategy for science and innovation. This had been promised alongside the autumn statement, but is now not expected until next week.
In a statement the Royal Society echoed these comments, saying it was encouraged to hear the chancellor give science a high profile but wanted to see more detail.
Besides infrastructure spending, the chancellor announced new loans to cover taught postgraduate masters for anyone under 30. The loan would be income dependent and repayable alongside any current undergraduate loan. He said this recognised the fact that many professional careers now required postgraduate qualifications, but that the ability to pay up front – rather than a student's talent – risked dictating who would take these degrees. He also announced £20 million for improved careers advice for young people.
Industry will benefit from an increase to R&D tax credits, a scheme to encourage firms to invest in R&D, although these come with new restrictions. The rate of relief on profits will rise from 10% to 11% for large businesses, and from 225% to 235% for small and medium sized businesses. The application process will also be simplified for small businesses.