Rules for handling ammonium nitrate revisited in wake of West disaster, but industry groups are worried by increasing complexity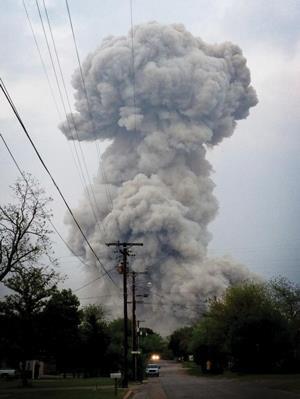 A long-awaited plan to bolster the safety of US chemical plants is facing some industry opposition. The report issued by an interagency government task force was released on 6 June in response to last year's deadly explosion at the West Fertilizer plant in Texas that was caused by improper storage of ammonium nitrate.
The report was in response to an executive order that President Obama issued in in August 2013. That directive told agencies to review their industrial chemical safety regulations and improve coordination.
The task force said ammonium nitrate poses a unique challenge because it is a high-volume chemical used in both the fertiliser and explosives industries, and it identified opportunities to improve safeguards. For example, its report noted that the Environmental Protection Agency's (EPA) risk management programme doesn't cover ammonium nitrate. However, it said the agency is considering whether to add ammonium nitrate and other reactive substances to its existing list of regulated substances.
By October, the EPA is expected to have determined whether additional changes are necessary to complement a separate standard of the Labor Department's Occupational Safety and Health Administration (OSHA). That OSHA process safety management standard covers some reactive chemicals, but not ammonium nitrate.
Currently, OSHA is considering whether ammonium nitrate hazards are best controlled under its blasting agents standard or process safety standard, or a combination of both. The agency will pursue 'any appropriate regulatory changes as expeditiously as possible', the task force said. In addition, the Department of Homeland Security (DHS) will soon finalise rules that require ammonium nitrate purchasers and sellers to register and be vetted against a central terrorist watch list.
'There is a real important need to integrate and coordinate among the federal agencies that have responsibility for chemical plant safety,' says Mathy Stanislaus, assistant administrator of the EPA's Office of Solid Waste and Emergency Response. This includes greater cooperation in areas like data sharing, modernising policies and regulations, and identifying noncompliant facilities, he states.
But the federal plan is encountering resistance from industry. The National Association of Chemical Distributors (NACD) and the American Chemistry Council (ACC) are concerned that it would increase the scope and complexity of regulations, and try to integrate 'inherently safer technologies' (IST) into current processes. The ACC warns that focusing on these 'safer alternatives' could create an 'unnecessary layer of duplicative requirements' that would confuse chemical plants and stretch agency resources.