Biochemist revealed protein pathway for cell breakdown
Irwin Rose, joint winner of the 2004 Nobel prize in chemistry, has died aged 88. Rose, along with Aaron Ciechanover and Avram Hershko, received the prize for discovering how cells break down and dispose of unwanted proteins.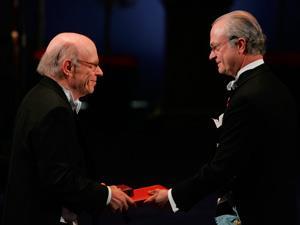 Born in Brooklyn, US, Rose attended Washington State University before his undergraduate studies were interrupted by serving in the navy during the second world war. After the war he finished his degree at the University of Chicago, going on to complete a biochemistry PhD in 1952. Rose went on to become a prominent researcher at the Fox Chase Cancer Center in Philadelphia.
It was at Fox Chase in the 1970s that Rose took a keen interest in how proteins are destroyed after studying enzymes and metabolism processes. Following the discovery of the small protein Ubiquitin in 1975, Rose, Ciechanover and Hershko discovered that ubiquitin was used to 'tag' proteins that are ready for destruction – the so-called 'kiss of death'. These marked proteins are then broken down and recycled in proteasomes. The breakthrough revolutionised cell biology, resulting in many drug discovery opportunities in cancer treatments.
Following Rose's retirement in 1997, he took up the position of distinguished researcher-in-residence at the University of California, Irvine.