Province's new premier cancels media subscriptions and revokes carbon tax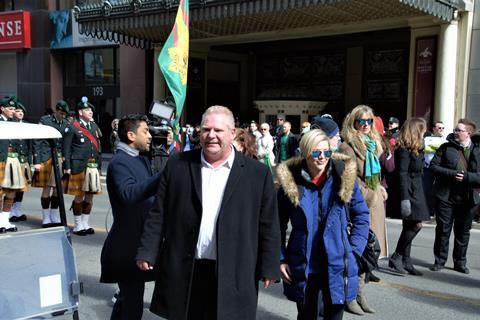 Scientists in Ontario, Canada's most populated province, are concerned about the future of government science in the province following the election of Doug Ford as premier. Ford, brother of the late Toronto mayor Rob Ford, has a populist streak and has shown little interest in listening to experts on scientific matters.
Ford's election campaign, in which he did not release a concrete, costed platform but promised to fight the federal government on carbon pricing and lower gasoline taxes, raised red flags for scientists, says Katie Gibbs, executive director of the scientific campaign group Evidence for Democracy in Ottawa. 'At least one candidate questioned whether climate change was caused by humans. That's concerning to see in Canada at this point,' says Gibbs. 'It makes us wonder what other policies might go against the evidence.'
Some of Ford's first actions after winning the election have also alarmed researchers. He announced his intention to cancel Ontario's cap-and-trade carbon pricing scheme, in which it collaborates with the Canadian province of Quebec and the US state of California, and he plans to end subsidies for homeowners to make their houses more energy efficient. His cabinet, announced on 29 July, no longer includes a minister specifically responsible for research and innovation, folding that portfolio into the responsibilities of the minister for economic development, job creation and trade, Jim Wilson.
The loss of the dedicated minister is disappointing, but Jim Woodgett, director of research at the Lunenfeld-Tanenbaum Research Institute in Toronto, says that Wilson, who served as minister of health and minister of energy, science and technology in a previous government, is a good choice for the job. 'I think he's very well versed on the quality of research in Ontario and its impact on modern society, sparking new companies and driving innovation,' says Woodgett.
Bad news
Other moves are more worrying. Ministries have been told to freeze hiring, curtail public events and ban all travel outside the province. They have also been told to cancel all media subscriptions including newspapers, magazines, trade journals and other publications both in print and online. While details are sparse, it presumably includes the scientific journals used by government scientists in public health, environment, and other areas.
John Dupuis, a librarian at York University in Toronto, says the policy is likely aimed more at hurting news publications like the Toronto Star, a paper with which Ford has a long-running feud, than scientists, but it will have the effect of 'strangling information flows' in science-based departments. Much will depend on how that policy is implemented by the departments – and Dupuis hopes that civil servants will be able to make the case that some departments simply can't function without access to the scientific literature. But even so it will be tough to convince the new premier.
'Doug Ford doesn't care about evidence, he sees expert opinion as just the elites,' says Dupuis. 'His whole approach to life isn't evidence-based. For him it's all about his gut feelings.'
For now, researchers are waiting to see what will come of Ford's new policies – he has a history of backtracking on ideas that meet stiff resistance – and hoping that the transition will not be too rocky. 'We are keen for the new government to get to work so that the normal election hiatus covering formal approvals and processes ends. Everything has been on hold for two months and science waits for no one,' says Woodgett.
Update 5 July 2018: Premier Ford has fired Ontario's chief scientist, biomedical engineer Molly Shoichet. Shoichet was appointed as the province's first chief scientist in November 2017. Her role was to coordinate Ontario's research strategy, ensure science made it into the hands of decision-makers and work with the science community to advance Ontario as a hub for research and science. It is not yet known if Ford intends to appoint a new chief scientist, or eliminate the position. 'This is very disappointing news, and signals a worrying pattern,' said Gibbs.